Toddler dies in latest China knife attack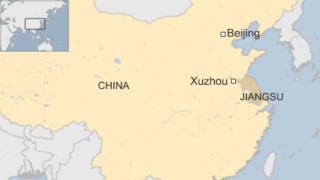 A man in the eastern Chinese province of Jiangsu has killed a young girl and injured a boy, the latest in a series of knife attacks on children, report state media.
The incident took place at Langgudun village near Xuzhou city, said Xinhua.
The girl and boy were aged between three and four years old.
Sina News reported that they were attacked by a 32-year-old man who entered the village wielding an axe and cleaver. He has since been arrested.
A number of public attacks on children in recent years has sparked safety concerns in China and security has been stepped up at schools.
Authorities have generally attributed the attacks to people with personal grudges or suffering from mental health problems.
Xinhua reported that a student was stabbed to death and another two seriously injured in Jiangxi province last week.
In September, a man armed with a knife killed four children in Guangxi.
In the same month, three children were killed and six more injured when a man entered a primary school in Hubei and began stabbing students and teachers.