China media: New anti-corruption agency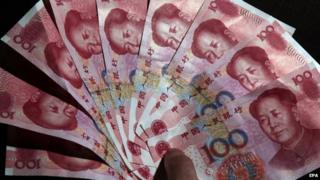 Papers welcome the government's decision to set up a new anti-corruption agency to support President Xi Jinping's campaign against graft.
The Xinhua News Agency reports that the central government has approved a plan to set up a new anti-graft authority as part of the reform of the Supreme People's Procuratorate (SPP), the highest prosecuting body in China.
The report adds that more resources will be pumped in to tackle "uniquely serious" corruption cases.
Supporting the move, an article in the People's Daily notes crimes committed by officials have become more sophisticated and involve a large number of people.
"The new agency will be better equipped to fight the battle," it says.
Cheng Lei, a specialist in judicial reform at Renmin University of China, explains that the new body will allow the SPP "to focus on big and important corruption issues and prevent local party leaders and government officials from abusing their power to interfere in corruption cases".
"Moreover, it will improve the supervision mechanism inside the SPP and the prosecutors' handling of corruption cases will become more professional, open and transparent," he tells the China Daily.
The Haiwai Net says the new agency is likely to learn from the experience of overseas agencies like Hong Kong's Independent Commission Against Corruption, which was set up in 1974 to deal with rampant corruption in the city.
'Fallen' hero
Papers also analyse China-US relations before the leaders of the two countries meet in Beijing next week.
According to reports, President Barack Obama will arrive in the capital on 10 November to attend the Apec leaders' summit.
Tensions between both countries have escalated in the past months after the two traded accusations over several issues including espionage allegations.
Wang Fan, vice-president of China Foreign Affairs University, tells the Beijing News that both leaders are likely to hold discussions on anti-terrorism efforts and China's relationship with its neighbouring countries.
"The two leaders will have a long talk similar to the summit in Annenberg Retreat (in California) last year. Such a meeting will deepen their trust and understanding," he adds.
And finally, papers are shocked over the news that a selfless "hero" who had saved many lives is facing fraud charges.
According to the Beijing Times, Lei Chunian was honoured as a hero for saving seven of his classmates when a massive earthquake struck Wenchuan in Sichuan province, in 2008.
He was named a "heroic teenager" by several government departments and even participated in the torch relay for the 2008 Beijing Olympics.
Mr Lei, who is now 22, faced trial on Monday after he was accused of fraudulently taking more than 460,000 yuan ($75,410; £46,991 ) from 21 people.
Pointing out that the overnight fame had caused Mr Lei to "lose his directions", a commentary in the Beijing Youth Daily urges the public not to "over glorify" such acts.
BBC Monitoring reports and analyses news from TV, radio, web and print media around the world. For more reports from BBC Monitoring, click here. You can follow BBC Monitoring on Twitter and Facebook.