China says Zhou Yongkang case 'may take long time'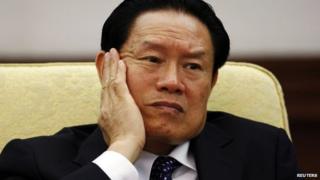 China says an investigation into the most senior communist official ever ensnared in a corruption scandal is still going on - and may take a long time to complete.
But the government has promised to make public the case against the former leader Zhou Yongkang.
Before he retired two years ago, Mr Zhou was the head of China's vast internal security apparatus.
He is being investigated as part of a wider campaign against corruption.
In-depth investigation
The rare comments on the case against Mr Zhou were given by one of China's vice-ministers of justice, Zhang Sujun, at a press conference.
In an article carried by China's state-run Xinhua news agency, Mr Zhang is reported to have acknowledged the intense interest in the case.
Mr Zhou was previously a member of the Chinese Communist Party's politburo standing committee, the country's most important decision-making body.
Mr Zhang said investigators from the party's own internal discipline department needed time to complete the "in-depth" investigation.
"I believe that [the] related department will definitely publicise the case in an appropriate measure and [through] an appropriate channel after the investigation comes to a close," he said, according to Xinhua.
The vice-minister said the investigation was being carried out using proper procedures.
But China's legal system can at times work at great speed; some suspects are tried, convicted and sentenced in just a day.
Correspondents say the length of this case - Mr Zhou has not been seen in public in more than a year - suggests the authorities know they have to tread carefully with an investigation into such a powerful former leader.
The case against Zhou Yongkang is part of President Xi Jinping's two-year campaign to weed out corruption among party and government officials. President Xi believes corruption undermines the communist party's support.