China media: Apec summit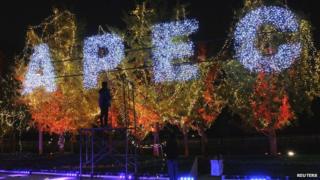 Papers back President Xi Jinping's "Asia Pacific dream" and dismiss fears over China's growing clout as Beijing hosts the Asia Pacific Economic Co-operation (Apec) summit.
Mr Xi on Sunday called on Apec leaders to create an inclusive "Asia-Pacific dream" to build an open regional economy to ensure free trade and investment.
Reports say Beijing has been pushing for a Free Trade Area of the Asia-Pacific (FTAAP) agreement to counter Washington's influence in the region.
Observers feel that Beijing wants a new free trade agreement to rival the US-led Trans-Pacific Partnership that involves 12 regional countries, but excludes China.
"Some Western media outlets have rushed to hype up the 'China-US rivalry' for leadership in the region's mounting free trade drive," notes the Xinhua News Agency, dismissing such allegations as "groundless".
The commentary assures that the Beijing-led proposal is not a "solo show" of China but a "shared aspiration of all Apec members that will bring them a wealth of benefits".
"The FTAAP is not aimed at forcing out other free trade arrangements in the region, but at integrating them and making regional movement of goods and services more efficient," says the news agency.
Another Xinhua article highlights China's contributions in regional integration.
"For 23 years, Apec has offered China a broad stage for regional integration, while Beijing has shared the fruits of its reforms with the entire Asia-Pacific region and beyond," it says.
Without mentioning any nation by name, an article in the Haiwai Net lashes out at "some countries" for advocating protectionism and "exclusivity".
"China does not want to control or steal from anyone, nor does it want to marginalise any country… It wants to totally change the old way of winner-takes-all mentality," it adds.
Assuring that the peaceful rise of China "is not just a slogan on the lips of Chinese leaders", the China Daily stresses that China wants a "win-win" situation to create a "harmonious world".
"That is not because China is not powerful enough to exercise hegemony," says the paper. It adds that "China was bullied and oppressed by foreign powers for almost a century, which proved to be a motivating power for its rise".
"But even though China has developed into the world's second-largest economy, it has no intention of inflicting the same kind of sufferings it endured on other peoples," it says.
Xi-Abe meeting
Meanwhile, papers caution against reading too much into the meeting between the leaders of China and Japan.
According to reports, Mr Xi and Japanese PM Shinzo Abe on Monday met for formal talks on the sidelines of the Apec summit.
The meeting comes with ties at a low ebb over a territorial dispute over islands in the East China Sea.
Most papers are yet to respond to the leaders' meeting.
However, media commentators have warned against being too optimistic after the two countries on Friday reached a consensus on handling contentious historical and territorial issues.
"Even though the consensus is reached and even if Mr Xi has met Mr Abe, it does not mean that Sino-Japan ties will completely chang as the relationship still faces a lot of difficulties," warns the Global Times' Chinese edition.
"The 'Beijing-Tokyo breakthrough' should not be over-exaggerated and steal the limelight of the Apec as it is not a platform for both countries to mend the relationship," reminds the paper, blaming the Abe administration for pushing the bilateral relationship to a "low point".
The International Finance News also blames Mr Abe for the deterioration of bilateral ties.
It adds that the Abe administration called for a meeting because Japan is facing domestic political and economic pressure, and it needs to improve Beijing-Tokyo ties.
The paper states that China will not allow trade relations between the two countries to deteriorate because it affects the Chinese economy as well.
"But the problem is, will Japan stick to the consensus reached? Or is it just a political opportunism? We should remain on the alert," warns the paper.
BBC Monitoring reports and analyses news from TV, radio, web and print media around the world. For more reports from BBC Monitoring, click here. You can follow BBC Monitoring on Twitter and Facebook.