China food plant fire kills 18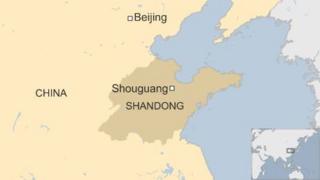 A fire at a vegetable processing plant in eastern China has killed at least 18 people, state media report.
The fire broke out at the Longyuan food facility in the city of Shouguang, Shandong province, on Sunday evening, injuring 13 other factory workers, state-run Xinhua news agency reported.
The fire was extinguished after two hours and the company's managers were detained by local police, it said.
The cause of the blaze is currently under investigation.
The incident comes as the latest in a series of workplace accidents in China.
In January, a fire at a shoe factory in Zhejiang province killed 16 people.
A separate accident took place last year at a poultry processing plant in Jilin province, killing 121 people. It was said to be the country's deadliest fire since 2000.