China media: G20 diplomacy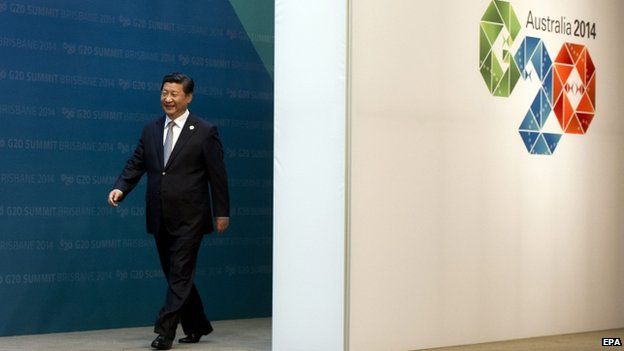 Papers see Beijing's nomination to host the G20 summit in 2016 as a sign of China's growing clout in international affairs.
Chinese President Xi Jinping, speaking at the close of the G20 in Australia on Sunday, said that China was confident it could fulfil its role as the chair of the 2016 summit, after Turkey in 2015.
Beijing successfully hosted the Asia Pacific Economic Co-operation (Apec) Summit last week.
The Global Times says the international community needs to do more to solve global problems.
"The G20 summit in Brisbane obviously ran off the rails. One of its key themes was boosting growth and employment, but the public's attention has been caught by the rivalry between the West and Russia," it notes.
However, it adds that Beijing "has the determination and responsibility to hold successful international conferences" and "is powerful enough to exert an influence on all parties".
Commenting on the G20 meeting in Brisbane, the China Daily praises Beijing's efforts in economic reforms.
It supports President Xi Jinping's proposal to follow an "innovative approach of development through reforms to build a fair, just, inclusive and orderly international financial system".
A commentary in the overseas edition of the People's Daily points out that China "promoted the idea of interconnectivity" at the Apec summit and also at the G20 meeting.
It adds that China's contribution to globalisation has increased with its rise as an economic powerhouse.
Meanwhile, papers discuss the "popularity" of Chinese-made arms after an international air show concluded on Sunday.
According to Xinhua news agency, deals worth $23.4 bn (£14.8bn) were signed during the International Aviation and Aerospace Exhibition held in Zhuhai, in southern China.
Describing Chinese defence equipment as "effective" and "affordable", the China Daily notes that these weapons are "popular with developing countries".
Liu Song, the deputy general manager of research and development at China North Industries Corp, tells the paper that the company already has clients in South Asia and Middle East regions, and it has found new buyers in Africa and South America.
"The demand for our products from emerging markets continues to expand, and now a lot of foreign armies are coming to us," Mr Liu is quoted as saying.
"Their capabilities are as good as those of Western weapons, but the prices are much more competitive," he adds.
The People's Daily agrees that China's aviation industry has developed rapidly, but reminds that it still needs to "press forward" to compete with advanced nations.
"As a latecomer in the aviation industry, we are still far behind the US and Europe - especially in core technology. Although we have made some progress in innovation, there are still tough challenges ahead," admits the paper.
And finally, some papers analyse the reasons behind Chinese students' declining interests in pursuing graduate studies in the US, after reports that the number doing so has declined for the first time in 10 years.
The Beijing Business Today says that putting in a huge sum of money to pursue a graduate degree overseas is not worthwhile because many students face unemployment after returning home.
BBC Monitoring reports and analyses news from TV, radio, web and print media around the world. You can follow BBC Monitoring on Twitter and Facebook.
Related Internet Links
The BBC is not responsible for the content of external sites.