Hong Kong pro-democracy leaders condemn parliament clashes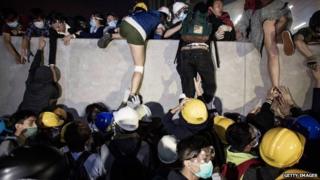 Pro-democracy leaders in Hong Kong have condemned violent action by a small group of protesters on Tuesday who tried to break into parliament.
The Occupy Central movement said those behind the clashes had misled the crowd by spreading "false information".
The police also denounced the violence, saying it had "seriously disrupted public order and public safety".
Protesters calling for full democracy have occupied three key sites in Hong Kong for nearly eight weeks.
But hours before Tuesday's incident, bailiffs and police peacefully cleared a section of the main Admiralty protest camp.
Police say they are also preparing to clear the roads at the main camp at Mong Kok on Thursday.
Protesters 'misled'
Police used pepper spray and batons to drive back the group of protesters after they used metal barricades and concrete slabs to smash the glass doors of the legislature, known as Legco.
At least four people were arrested and three police officers injured in the overnight clashes. The situation had returned to normal by Wednesday morning, after the protesters retreated.
Protest leaders have condemned the violence, suggesting it may undermine their ultimate aim for Hong Kong to hold leadership elections without interference from China.
One of the main protest groups, Occupy Central, said "some people... had egged on other protesters to enter the Legco building but left themselves," in a statement condemning the violence.
Democratic lawmaker Fernando Cheung, who was among a group of people trying to stop the protesters, said they had been "misled" into thinking that parliament was about to debate a controversial ruling on freedom of the internet.
"They told me they thought Legco will meet to discuss the so-called Article 23 for the internet today. But there's no such meeting arranged at all," Mr Cheung told the South China Morning Post, referring to a bill considered by pro-democracy groups as an attempt to suppress freedom of expression.
Earlier, Lester Shum, from the Hong Kong Federation of Students, told AFP: "It's not something we like to see... We call on occupiers to stick firm to peaceful and non-violent principles and be a responsible participant of the umbrella movement."
Some protesters said they were angered after part of the Admiralty camp was dismantled by police earlier on Tuesday.
'Thousands of police'
Meanwhile, police spokesman Hui Chun-tak said police and bailiffs had met to discuss preparations for clearing the main protest camp at Mong Kok, after being granted an injunction by the high court.
Mr Chun-tak told reporters on Wednesday that police would "take action against those who obstruct or violently charge the bailiffs who are executing their duties".
While it is not yet clear when the camp will be cleared, the South China Morning Post says thousands of police are on standby to clear the site as early as Thursday. A third protest site remains at Causeway Bay.
The protesters have been on the streets since early October to demonstrate against a decision by China to screen candidates for Hong Kong's 2017 leadership election. Numbers were originally in the tens of thousands but have fallen to a few hundred.
Hong Kong and the Beijing government say the protests are illegal, and there is growing public frustration with the disruption to traffic and business.
Police operations to clear and contain the camps in recent weeks have sometimes led to clashes. An earlier attempt to clear an underpass near Admiralty led to accusations that police had used excessive force, after a video emerged of officers apparently beating a protester.
Hong Kong democracy timeline
1984: Britain and China sign an agreement where Hong Kong is guaranteed "a high degree of autonomy, except in foreign and defence affairs" for 50 years following the handover in 1997.
June-July 2014: Pro-democracy activists hold an unofficial referendum on political reform and a large rally. This is followed by protests by pro-Beijing activists.
31 August 2014: China says it will allow direct elections in 2017, but voters will only be able to choose from a list of pre-approved candidates. Activists stage protests.
22 September 2014: Student groups launch a week-long boycott of classes in protest.
28 September 2014: Occupy Central and student protests join forces and take over central Hong Kong.
October 2014: Chief Executive CY Leung refuses demands for his resignation. Discussions between government and student leaders go nowhere. High court begins granting injunctions to clear protest sites.
15 November 2014: Student leaders' attempt to travel to Beijing fails.
18 November 2014: Bailiffs move in to clear a portion of the Admiralty protest site.
2017: Direct elections for chief executive due to take place
Q&A: Hong Kong's democracy controversy