China media: Internet governance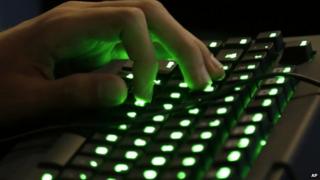 Papers defend China's management of the internet and support President Xi Jinping's call for better cyberspace governance.
"Following the principle of mutual respect and mutual trust, China is ready to work with other countries to deepen international cooperation, respect sovereignty on the internet, uphold cyber security, and jointly build a cyberspace of peace, security, openness and cooperation," Mr Xi wrote in his congratulatory letter to China's first World Internet Conference.
The three-day conference, which includes sessions on global internet governance, cyber security and mobile internet, started on Wednesday amid criticism of Beijing's internet practices from rights groups.
China has a quarter of the world's internet users - more than 600 million. It also conducts a sophisticated censorship programme.
Making no mention of the criticism, the Haiwai Net highlights that foreign media have been "singing praises" of the conference.
"By holding the conference, China has shown its responsibility as a big country," says the People's Daily.
Internet specialists tell the Global Times that the event and Mr Xi's statement "reflect China's commitment to strengthening internet governance".
Responding to the criticism on China's "restriction of internet freedom", the Chinese edition of the paper hits out at Westerners for "holding on to their old views and not willing to understand China".
"Chinese internet giants are breaking the monopoly of the West on internet technology… Global internet industries will have to depend more on China. Those Westerners will enter into a dead-end of views if they ignore this fact," it warns.
The paper adds that China holds an open attitude towards internet governance, and the country will welcome all US internet giants "as long as they respect Chinese law".  
Hong Kong 'chaos'
Meanwhile, some papers condemn a group of protesters in Hong Kong for trying to break into parliament on Tuesday.
Criticising the protesters for their "disregard for Hong Kong's rule of law", the Global Times describes the police as "timid".
Making a rare reference to the controversial Cultural Revolution, the paper warns that "chaos may still linger" as the "deadlock around Hong Kong's political reforms has not seen any real breakthroughs".
The Cultural Revolution was former Chinese leader Mao Zedong's social-political campaign aimed at reviving revolutionary spirit. The campaign led to massive social, economic and political upheaval in China during a ten-year period.
Discussion of the political movement remains taboo in China.
"Society in the Chinese mainland suffered greatly from the Cultural Revolution (1966-76) and keeps vigilant toward any signs of social disturbance. We are worried that Hong Kong society lacks the experiences the mainland has had and it would suffer bitterness," says the daily.
The China Daily agrees that the "premeditated attack" was a "blatant challenge to the rule of law".
'Baby boom'
And finally, papers report that some parents are rushing to have a baby this Chinese lunar year, fearing that children born in the next year will have a bad life.
Papers have noted a spike in the number of births this year because many mothers have been opting for a caesarean to give birth in the year of the horse that ends on 18 February.
Many believe that the next year, which represents sheep, will bring bad luck to newborns.
According to Chinese zodiac signs, years are grouped into a rotating cycle of 12 years and assigned with animal symbols.
Sociologists interviewed by Xinhua's Modern Daily urge parents to be "rational" and warn that baby boom may cause fierce competition among the children for educational resources and jobs when they grow up.
BBC Monitoring reports and analyses news from TV, radio, web and print media around the world. You can follow BBC Monitoring on Twitter and Facebook.