China drafts first national domestic violence law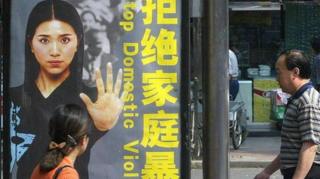 China has drafted its first national law against domestic violence, a move hailed by campaigners as a major step forward.
The new bill defines domestic violence for the first time and offers clear guidance on restraining orders.
Activists have welcomed the move but say the law does not go far enough.
Nearly 40% of Chinese women who are married or in a relationship have suffered abuse, according to state media.
Domestic abuse has long been seen as a private matter in China despite the scale of the problem, says the BBC's Martin Patience in Beijing.
It was only in 2001 that physical abuse became grounds for divorce.
'Powerless'
The law, which still needs approval by parliament, introduces measures rights groups have long advocated, such as formally defining domestic violence.
Without a legal definition of the term, victims have found it difficult to get justice.
The new law says police must now respond to reports of domestic violence and courts will have two days to rule on restraining orders.
Hou Zhiming, a veteran women's rights advocate, told AFP she would be "very pleased" to see the law enacted.
"Over the years, we've many times felt powerless ourselves to help victims."
But some campaigners are concerned that the draft law excludes unmarried and divorced couples.