Hong Kong student leader Joshua Wong taken to court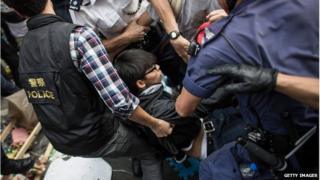 Prominent student leader Joshua Wong and other activists appeared in a Hong Kong court on Thursday to face charges of obstructing bailiffs.
The protesters were detained on Tuesday and Wednesday amid violent clashes over the clearance of the Mong Kok protest site by authorities.
Its key section, Nathan Road, is now open to traffic, but activists have vowed to continue with their protests.
Two other protest camps remain at Admiralty and Causeway Bay.
Mr Wong, fellow student activist Lester Shum, and lawmaker Leung Kwok-hung, popularly known as Long Hair, were among 31 activists who appeared at Kowloon City Court on Thursday morning, reported local media.
Mr Wong and Mr Leung have been banned from entering Mong Kok as part of their bail conditions, reported RTHK.
More than 140 protesters in Mong Kok were arrested this week as they resisted police efforts to demolish the site. A high court had granted injunctions for the site's clearance.
On Wednesday night hundreds of protesters attempted to retake Nathan Road and clashed again with police, with some activists sustaining injuries.
The stand-off lasted till the early hours of Thursday morning when the police dispersed the crowd.
About 6,000 police officers have been assigned to guard the area this week, reported the South China Morning Post.
The Federation of Students, which Mr Shum belongs to, has since told local media that they may target government buildings or departments in retaliation for "police violence" during the clearance.
Bailiffs earlier this month also cleared out an area in the Admiralty protest camp following a similar injunction.
No violence had erupted then with protesters even aiding bailiffs to clear barricades. The peaceful situation then was largely attributed to the fact that authorities were clearing only a small portion of the camp.