China media: Global corruption survey accused of bias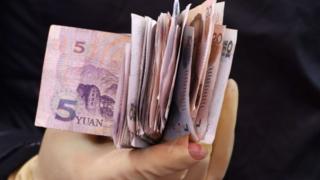 News that China's corruption rating has fallen in a global survey has prompted accusations of Western bias in the Chinese state media.
China slipped from 80th place last year to 100th this year in Berlin-based Transparency International's survey of perceptions of corruption, landing it among the worst performers, despite President Xi Jinping's high-profile anti-corruption drive.
The watchdog's Asia-Pacific director, Srirak Plipat, tells Hong Kong's South China Morning Post that unless Beijing introduces measures such as anti-bribery laws, better protection for whistle-blowers and freedom of the press, efforts against corruption will remain ineffective.
But the Chinese edition of the Global Times suggest the survey's evidence is skewed, arguing the China's worst ratings had come from US-based institutions.
"From the previous reports by Transparency International," it says, "we can gather that countries which are seen as democracies by the West, including India, the Philippines, Indonesia, East Timor and Mongolia have improved significantly in their ratings, while Singapore, China, Hong Kong and Pakistan have dropped a lot".
Without directly mentioning the TI survey, the People's Daily highlights data released by the Organisation for Economic Co-operation and Development (OECD) on Tuesday about the involvement of large foreign companies in Chinese bribery cases.
"In Western media reports, developing countries are always portrayed that they plagued by corruption, while the developed countries are always described as 'Mr Clean'," it complains.
"But the OECD report has shown that transnational corruption always takes place in developed economies."
Know your rights
In other news, state media outlets call for greater public awareness of the country's legal system as China marks its first Constitution Day.
It is all part of a wider drive aimed at strengthening the rule of law, launched at a meeting of China's top legislature in November that also designated 4 December Constitution Day.
The Beijing News suggests its readers use the opportunity to give the constitution a read in order to gain a greater understanding of their rights, while a commentary by the official news agency Xinhua says it is an "opportunity to educate society about the constitution".
But the agency also laments the fact that "full implementation of the constitution has a long way to go".
"Effective mechanisms to supervise implementation and punishment have yet to be firmly established," it says.
"Some officials, including those from law enforcement agencies and judicial departments, have abused their power, infringing on citizens' rights."
The government newspaper China Daily is more upbeat however, saying the latest reforms have "given the constitution teeth".
And finally, as the diplomatic row rumbles on over China's refusal to let a delegation of British parliamentarians into Hong Kong, state media outlets accuse the United Kingdom of clinging to its colonial past.
Beijing insists the handling of the pro-democracy protests in Hong Kong are a purely internal matter, while the British government has called the ban "wholly unjustified" and "counter-productive".
The overseas edition of Communist Party paper People's Daily carries a strongly-worded front-page commentary article reminding Britain that its colonial past "has long gone".
"Just when China is working hard to manage the situation and restore order in Hong Kong, external forces - including the US - are fanning the flames and stirring up trouble," says the article
It adds that the British appear to have "forgotten a few important facts", including that Hong Kong had always been part of China until Britain "forcibly occupied" it.
"Interfering in another country's domestic affairs and forcing their Western values and ideology on others, and doing whatever it pleases - these just show that the poisonous mentality of colonialism still remains," it says.
BBC Monitoring reports and analyses news from TV, radio, web and print media around the world. You can follow BBC Monitoring on Twitter and Facebook.