Hong Kong protest leader, Joshua Wong, ends hunger strike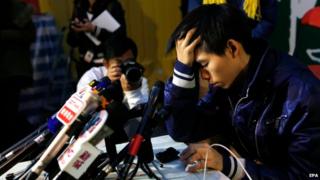 Joshua Wong, the teenage student who became an icon of Hong Kong's protests for greater democracy, has ended a hunger strike after four days.
Mr Wong said he was halting his 108-hour strike on the advice of a doctor.
However, he said the protesters' fight would go on. Three other students are still refusing food.
The protests - which began two months ago - are calling for China to drop restrictions on the 2017 election of Hong Kong's next leader.
The demonstrations, spearheaded by the students, initially drew tens of thousands of people onto the streets.
Recently the numbers have been much smaller. Only two protest camps remain in the centre of the city, after a third one was dismantled by police last Sunday.
Mr Wong and fellow students began an "indefinite" hunger strike on Monday, calling on the government to resume talks on electoral reform.
However, the government has refused to accede to the protesters' demands.
"As a government, we won't accept any illegal actions... or actions like a hunger strike to convince us to make concessions," Hong Kong's Secretary for Constitutional and Mainland Affairs, Raymond Tam, said.
Announcing the end of the strike on his Facebook page, Mr Wong said he felt "extreme physical discomfort, dizziness and weakness in the limbs".
"Even if I stop the hunger strike, it doesn't mean that the Hong Kong government can ignore our demands."
China's communist government insists that a loyalist committee must vet the leadership candidates for the 2017 election.
However, the protesters in semi-autonomous Hong Kong say this is un-democratic, and have called for a fully free vote.