HK protesters brace for clearance after injunction published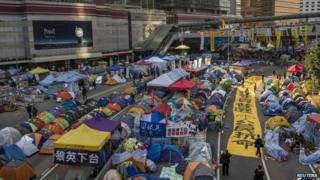 Hong Kong's protesters are bracing for the clearance of parts of their main occupation camp, after an injunction paved the way for officials to move in.
On Tuesday, a High Court ruling that ordered the clearance of three parts of the Admiralty protest camp was published in local papers.
A lawyer for the firm behind the ruling said protesters should leave the area before 09:00 (01:00 GMT) on Thursday.
The pro-democracy protesters want Beijing to agree to electoral reform.
The injunction against the main site - near government buildings - was secured by bus company All China Express Ltd on 1 December. It said the ongoing protests were disrupting its business.
On Monday, the High Court issued the official clearance order. Its publication in local newspapers is a legal requirement before action can go ahead.
The order authorises bailiffs to move in and to "request the assistance of the police where necessary" to remove "obstructions" in the three designated areas.
Paul Tse, the lawyer representing the company, said dismantling work would begin on Thursday morning.
"What I would like to do now is to make a public plea to the students to stay away from the scene when there is plenty of time," he said.
Falling numbers
At their height, the pro-democracy protests drew crowds of more than 100,000 people to the streets of Hong Kong.
But numbers have fallen substantially and last month, one of the three protest camps, in Mong Kok, was cleared after local transport firms obtained injunctions - a move that led to clashes and arrests.
A small area of the Admiralty camp, around the Citic Tower, was also cleared in mid-November after the building's owners secured an injunction. A third camp remains in the Causeway Bay shopping district.
Those camped out on the streets are mostly students, after the wider activist group Occupy Central called on people to go home, saying it was time to transform the campaign into a "stable civil society movement".
The South China Morning Post, citing unidentified police sources, said the two remaining sites could be cleared at the same time, in an operation involving 3,000 police officers.
China says all Hong Kong residents will be able to vote in the territory's next leadership election in 2017, but says the candidates will be screened by a pro-Beijing committee.
The protesters, who began their action in late September, say this does not constitute democracy.
On Saturday Joshua Wong, a leading figure in the student protest movement, ended a six-day hunger strike. He had called on the government to hold talks with the students but ended the hunger strike on the advice of a doctor.
He says his Scholarism group will abide by the principle of non-violence if the Admiralty site is cleared, saying if police move in they will urge the elderly and high school students to withdraw.
---