China nursery school collapse kills three children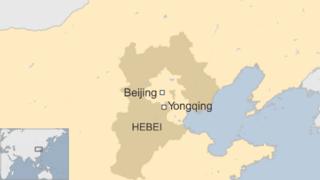 Three children have been killed after a building collapsed at a nursery school in northern China, state media says.
The children were taken to hospital but died of their injuries, according to the official Xinhua News Agency.
Three other children were injured in the incident, in Yongqing county, in Hebei province, Xinhua added.
Safety standards of school buildings have been a public concern in China since many collapsed during a devastating earthquake in 2008.
Thousands of school children were among the almost 90,000 dead, leading to a public outcry over shoddy construction and the lack of safety measures.
Five children were killed earlier in the week in eastern China, when the wall at the side of a basketball court suddenly collapsed, officials said.