Three hurt in knife attack in China's Xinjiang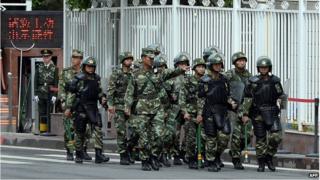 Chinese authorities have arrested a knife-wielding man who injured three people waiting at a bus stop in Xinjiang, local media say.
The incident took place in the region's capital, Urumqi, on Monday night.
No information has been released on the attacker's identity or motivation.
But Xinjiang, which borders Central Asia, has seen a spate of attacks in recent months, amid tension between its minority Muslim Uighur population and Han Chinese residents.
Chinese authorities have responded with an expanded security presence and a crackdown, arresting hundreds and executing dozens.
CCTV reported on Monday that the attack happened at 19:50 (11:50 GMT). Police officers were on patrol nearby, and got to the scene "within seconds".
Pictures released by the national broadcaster showed officers holding down a man in the middle of a busy road amid traffic. None of the victims received life-threatening injuries, reports said.
Urumqi has seen a number of attacks this year. In May, at least 31 people were killed and more than 90 were injured when two cars crashed through an Urumqi market and explosives were tossed into the crowd.
It followed a bomb and knife attack at Urumqi's south railway station in April, which killed three and injured 79 others.
Beijing blames the violence on Uighur separatists inspired or supported by overseas extremists groups. Activists say China's policies towards Uighurs are repressive and are fuelling significant resentment.
---
Uighurs and Xinjiang
Uighurs are ethnically Turkic Muslims
They make up about 45% of the region's population; 40% are Han Chinese
China re-established control in 1949 after crushing short-lived state of East Turkestan
Since then, there has been large-scale immigration of Han Chinese
Uighurs fear erosion of traditional culture
---