China media: Latin America ties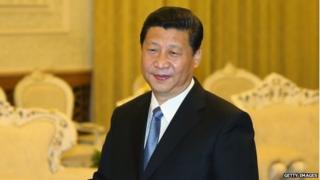 Papers welcome closer China-Latin America ties as a high level meeting between the two sides starts on Thursday.
Chinese President Xi Jinping will attend the opening of the two-day ministerial meeting, known as the Forum of China and the Community of Latin American and Caribbean States (CELAC), in Beijing.
The meeting is expected to discuss wide-ranging issues, including politics, diplomacy, trade, and culture.
According to the official Xinhua News Agency, the forum is "expected to push China-Latin America comprehensive co-operation to a new level".
"The China-Latin America co-operation, which covers about one-fifth of the world's area and a quarter of the world's population, will also make its unique contribution to world's economy and international order," says the news agency.
Experts tell the Global Times that the US has been feeling "uneasy" with a closer China-Latin America ties and has been taking steps to improve relations with countries in the region, including normalising ties with Cuba.
Jin Canrong, an international relations expert at the Renmin University, says that Washington's pivot to Asia strategy "has achieved little" and it is now paying closer attention to China's activities in Latin America.
"Recent US actions, including the dramatic change in diplomatic policy toward Cuba, could be seen as a way to cope with the expanding influence of China in Latin American," says the pundit.
Zhang Jiazhe, a researcher with the Shanghai Academy of Social Sciences, however, feels that the US will "tolerate" China's presence because "bilateral co-operation between China and Latin America mainly focuses on economy and trade".
Doubts over Abe's pledge
Meanwhile, papers remain guarded in their response to Japanese Prime Minister Shinzo Abe's pledge on Monday that he would "express remorse" over Japan's wartime history.
Mr Abe is expected to issue a statement to mark the 70th anniversary of the end of the Second World War in August.
Ties between Japan and China have been strained over rival territorial claims in the East China Sea and disputes about Japan's World War II history.
A Xinhua report casts doubts over Mr Abe's "expression of remorse", saying Japan doesn't seem to be ready to "apologise" over the war.
"At the same time, he has continued to push for 'collective self-defence'," says the news agency, adding that "it is better to observe his actions rather than listening to his words".
Japan's cabinet approved a landmark change in security policy last year, paving the way for its military to fight overseas.
In the past Japan could use force only in self-defence. Under the proposed change, Japan's military will be able to come to the aid of allies if they come under attack from a common enemy
The move has angered China which sees this as a revival of militarism in the neighbouring country.
A commentary in the state-run China Net says Mr Abe doesn't seem sincere and he has decided to express remorse due to Washington's pressure and for fear of economic consequences if he "continues to spike China".
"His so-called 'reflections' do not come from his heart… Japan will need to admit its aggression history and express sincere repentance," the article urges.
TV 'censorship'
And finally, papers have defended state censorship after TV viewers expressed anger over "censorship editing" in a hit series.
According to local media reports, viewers were furious after The Empress of China, a drama on Wu Zetian, the only female emperor in Chinese history, was mysteriously taken off the air, only to return with edited scenes.
There has been no official response to the editing so far, but the Global Times quotes sources as saying that the show was edited "because too much of the actresses' cleavage was being revealed".
Noting the unhappiness of the fans, the daily reminds that it is "unrealistic to abandon censorship systems" in China.
Currently, China has no film rating system similar to those used in the UK and in the US.
"The reality is that censorship exists in many countries and it is unlikely to be reversed in China...Without a rating system in place, perhaps directors should have such a system in their minds," it suggests.
Criticising the "boldness" of the production, a Xinhua article points out that "even the popular South Korean TV programmes are much 'cleaner'".
It predicts that The Empress of China will meet with strict ratings in South Korea and "will not even achieve a high viewership there".
BBC Monitoring reports and analyses news from TV, radio, web and print media around the world. You can follow BBC Monitoring on Twitter and Facebook.