China Week: Flag feud and luxury jackets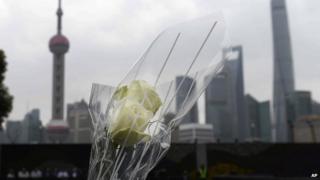 We're only a few days into the year and already in China, 2015 is a story of tragedy and comedy, intrigue and calculation.
Treating victims as enemies: a habit to break.
Let's start with the tragedy: the Shanghai Bund stampede of New Year's Eve.
Wasn't it torture enough for the grieving families in the days after this disaster, without being harried by officials to absolve the authorities, shun the media and stifle their questions about what went wrong?
We've seen this so many times, most memorably with the harassment of some of the parents whose children were killed in the 2008 Sichuan earthquake after jerry-built schools collapsed on top of them.
To stop treating victims like dangerous subversives ought to be a new year resolution for 2015 if the state is to bridge its trust deficit with citizens in times of crisis.
One China, one flagpole
For light relief, there was the faraway battle of the flags.
A story which ricocheted between Washington DC, Beijing and Taipei for several days after the Chinese government, ever jealous of the principle of "one China", discovered that Taiwan's flag had been raised over its de facto embassy in Washington for the first time in 36 years.
To begin with, Taiwanese press reports suggested that the American government had agreed to the flag-raising ceremony as long as it was low key but after Beijing's protest, a State Department spokeswoman said the US government did not know about the flag raising, did not agree to it, did not attend and was disappointed.
At which point, Taiwan had to eat humble pie and express regret for causing embarrassment.
Expensive friends
Eating a much bigger slice of humble pie this week was Venezuelan President Nicolas Maduro, who came cap in hand to China for loans to offset a dangerous slump back home as falling energy and commodity prices begin to bite.
China is already Venezuela's largest creditor having lent $50bn over the past eight years.
So how much more would Beijing be prepared to give now for the sake of influence in the region?
Answer $20bn, according to Mr Maduro.
But as they wave him off, Chinese leaders must be smiling through gritted teeth and wondering whether they will ever see those loans repaid.
And the same goes for loans to other expensive friends in Latin America like Ecuador and Argentina.
Media moguls
That Beijing airport road has been busy in the first week of the new year.
Perhaps Mr Maduro waved to another noteworthy visitor, the media magnate Rupert Murdoch.
He came not to borrow money but to meet China's internet tsar and deputy head of the Communist Party's propaganda department, Lu Wei.
Mr Lu himself is a busy man, fresh from hosting China's first World Internet Conference and touring Facebook and Apple headquarters in Silicon Valley.
On the subject of China excluding the world's big internet companies, Mr Lu has famously said he can invite who he likes into his home.
And I'd be interested to see a transcript of his fireside chat with Mr Murdoch.
I won't speculate or I'll get myself into trouble but perhaps it's one for Nobel prize winning author Mo Yan when he's finished his novel on corruption.
"His what?", you ask.
I know! Who saw that coming?
An interview on the website of the Communist Party's Commission for Discipline Inspection said the novel will be about the temptations of money and power.
Mo Yan hasn't started writing yet but is sure the book will have a "penetrating and profound" effect as it will put people "under the microscope of morals and laws".
I wish I felt that confident about what I write.
Designer official
But while we're on the subject of corruption, let's spare a thought for "padded jacket brother".
It's one of the dangers of contemporary official life in China that some eagle-eyed citizen will post a photograph of you doing something inappropriate or in this case wearing something inappropriate.
On this occasion, the official was Shi Jiaxing in the northeast city of Harbin.
He was photographed at the scene of a warehouse fire wearing a French designer jacket which retails for more than 10,000 yuan ($1,609; £1,064).
Five firefighters had died in the blaze and each of their families received 20,000 yuan ($3,218; £2,128) in compensation.
Online comment was swift and savage about the price of a life and the price of a jacket.
Mr Shi was forced to defend himself, insisting that his jacket was bought abroad by his daughter and that in rushing to the scene of the disaster he hadn't had time to change and was now ashamed of his carelessness and the damage he'd done to the party's image.
I told you the week was a mix of tragedy and comedy.
But after all the embarrassment for padded jacket brother, at least the families of the fire fighters are to get more compensation.