Hong Kong media tycoon Jimmy Lai targeted by firebombs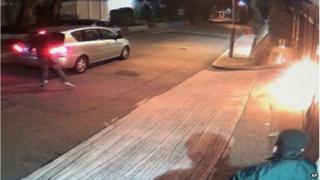 The home and the former office of Hong Kong media tycoon Jimmy Lai have been firebombed in an attack condemned by the city's top justice official.
Nobody was hurt in the attacks, which took place early Monday.
Mr Lai founded Next Media, which publishes outspoken newspaper Apple Daily. He has been previously targeted for his pro-democracy views.
The city's justice secretary Rimsky Yuen said Hong Kong "does not tolerate" such attacks.
Mr Lai resigned as the chairman of Next Media in December 2014, but is still a major shareholder. He was a vocal supporter of the two-month long pro-democracy protests and was frequently seen at the protest camps.
The BBC's John Sudworth in Beijing says the incident shows the depth of the division in Hong Kong society following the protests, and that the city's democracy debate is a political issue that is far from being resolved.
Apple Daily said that the attacks took place after 01:00 local time (17:00 GMT Sunday), and posted closed-circuit television footage of the incidents.
The video shows a man wearing a surgical mask and a hood throwing a small firebomb at the gates of Mr Lai's home on Kadoorie Avenue, before jumping into a car and speeding off. The bomb scorched a section of the gates.
Another bomb was also hurled towards the gates of Next Media's headquarters in the Tseung Kwan O industrial estate, although it landed on the pavement.
The South China Morning Post reported that two cars suspected to have been used in the attacks were later found on fire, with their registration plates removed.
'City with rule of law'
Mr Lai told the Wall Street Journal on Monday that he was "not scared" and the incidents were "only provocations".
His spokesman Mark Simon attributed the attack to "anti-democratic forces". He told AFP news agency: "Violence and intimidation seem to be the ongoing currency for those opposed to democracy and free press. There is no other plausible explanation here."
Justice secretary Rimsky Yuen has condemned the attack, saying: "Regardless of who the target is, the social status, political background or stance, Hong Kong as a city with rule of law definitely does not tolerate this."
Mr Lai has been targeted and threatened in the past, particularly for his open support of the pro-democracy movement.
In 2013, attackers rammed a stolen car into the front gate of his home and left an axe and machete on his driveway. A machete was also found outside the Next Media headquarters.
During last year's demonstrations, Apple Daily and its vendors were targeted several times, and copies of the newspaper destroyed. Several people also attempted to attack Mr Lai when he took part in a protest in November.
Mr Lai's resignation came days after he was arrested when authorities cleared the main protest camp in Admiralty in Hong Kong. He has been asked to appear at a police station later this month.