China media: Papers hail leaders' economic 'confidence'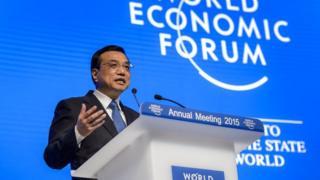 China's state media highlight the country's confidence in its economy after Premier Li Keqiang sought to reassure world leaders that fears of a "hard landing" are unfounded.
China plans "to withstand downward pressure and continue with its strategic focus", Mr Li said in a keynote speech at the World Economic Forum in the Swiss resort of Davos.
An article by the Xinhua state news agency describes the Chinese economy's "stable performance" as a "tranquiliser" for the global economy.
The news agency also praises China's leadership for delivering "solid" economic fundamentals and improving living standards.
A commentary in the overseas edition of the People's Daily said the attention paid to Mr Li at Davos suggests that a world faced with uncertainty welcomes what Beijing calls China's "new normal" of slower growth combined with major restructuring.
It also takes a swipe at Barack Obama, saying the world is tired of "his rhetoric about change" and is "looking forward to China's comprehensive reform with enthusiasm".
The China Economic Net agrees, arguing that the the "clear message" that there will be no "hard landing" is a boost of confidence for the global economy.
"With all the naysayers claiming that China's economy is heading for trouble, Mr Li has exhibited the 'China confidence'," the paper says.
Think harder
Meanwhile, newspapers urge China's think-tanks to improve the quality of their work, with the aim of boosting the country's soft power.
The issue has been in the limelight since President Xi Jinping called for a new type of think-tank to help China modernise its institutions of government.
Earlier this week, policy-makers announced plans to develop 50 to 100 "high-end" think-tanks, with "Chinese characteristics".
The Beijing Daily says the move is urgently needed, criticising China's existing think-tanks for either lacking views of their own or "exaggerating their views to gain attention".
An article in the Global Times argues that China is "in dire need of strategies and suggestions" as it pushes through tough economic reform.
"Think-tanks are expected to offer guidance on concepts such as the rule of law and democracy, which are seen as a boost to China's national rejuvenation."
But an article on People's Daily online laments that the overall quality of China's think-tanks lag far behind those of the US and Europe.
"The think-tanks in China are lacking in professionalism and funding," it says.
"They have no influence over policy-making. Knowing our own problems and taking effective measures to solve them will be the next stage of task for the developing Chinese think-tanks."
BBC Monitoring reports and analyses news from TV, radio, web and print media around the world. You can follow BBC Monitoring on Twitter and Facebook.