China media: India-US ties 'superficial'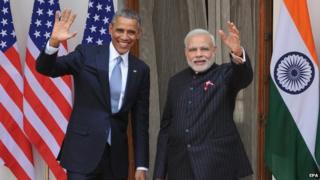 Papers dismiss Delhi-Washington ties as "superficial" as US President Barack Obama meets Indian PM Narendra Modi.
Mr Obama arrived in India on Sunday. Shortly after his arrival, the two sides announced a breakthrough on a pact that will allow American companies to supply India with civilian nuclear technology.
Chinese media outlets appear unimpressed with the deal. Recalling recent diplomatic rows between the US and India, Xinhua News Agency describes the apparently warm ties as "superficial".
It points out that the short visit is "surely not enough for Mr Obama and Mr Modi to become true friends" because there are "hard differences on issues like climate change, agricultural disputes and nuclear energy co-operation".
"With such a long list of differences on the table, Mr Obama will face a hard job to have his Indian friends on the same page," Xinhua concludes.
The People's Daily quotes observers as saying that both countries seems to be focusing more on mutual benefits than their differences.
The China National Radio observes that Washington has "pinned high hopes on Delhi" and wants India as its partner.
"The US wants to use India to contain China, but Delhi may not agree to such a strategy. Instead, commercial benefits and military technology are the things that India is hoping to gain from the US," it says.
Tiger vs Dragon
Warning against the Western media's "ulterior motive" in playing up the China threat, an article in the Global Times cautions China and India not to "fall into the trap of rivalry set by the West".
The commentary notes a "stereotyped mindset" in Western media that India's move to forge closer ties with the US is "aimed at China".
"This time, the stereotyped mind-set seems to have prevailed again when the US president and Indian prime minister hugged in Delhi," says the article.
"This fixed pattern of thinking was created and hyped up by the West which, with ulterior motives, regards the 'Chinese dragon' and the 'Indian elephant' as natural rivals," it adds.
Cautioning India not to "slide" into "Western influence", the daily says that although Beijing and Delhi still have "disagreements on some specific matters", both should make sure that "the big picture remains intact".  
Meanwhile, Chinese leaders have pledged closer ties with India as the South Asian country marks its 66th Republic Day on Monday.
According to Xinhua, Chinese President Xi Jinping and Premier Li Keqiang have sent congratulatory messages to their Indian counterparts.
The news agency quotes Mr Xi as saying that "China is willing to make concerted efforts with India to lift their strategic co-operative partnership oriented to peace and prosperity to a higher level".
Islamic State threat
Turning to other news, some media outlets speculate that Japan "may reassess the challenges it faces" after it became a victim of global terrorism.
Islamic State (IS) released a video on Saturday claiming that Haruna Yukawa, one of the two Japanese hostages captured by the militant group, had been killed.
Japanese PM Shinzo Abe has demanded the release of a second Japanese hostage in the video, said to be Kenji Goto.
Commenting on the crisis, the Global Times says that Japan has got its focus wrong by targeting China.
"In the past few years, Japanese rightists portrayed China as Japan's major threat, despite the fact that China has never infringed upon Japan over the past century." it says.
The daily also worries that the hostage crisis may provide "a new excuse to Mr Abe to lift the ban on collective self-defence".
It predicts that Mr Abe will face "few hurdles" if he decides to "strengthen Japan's military activities in the Middle East and its security deployment in East Asia".
However, the paper feels that Japan is "not capable of playing an active role in the Middle East" and reminds Tokyo that the hostage crisis "is more or less the price that Japan has paid for its support to Washington".
BBC Monitoring reports and analyses news from TV, radio, web and print media around the world. You can follow BBC Monitoring on Twitter and Facebook.