China media: Military might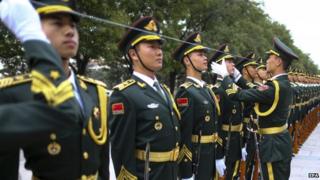 Papers play down doubts that a planned military parade in China is aimed at Japan.
Several media outlets are abuzz with discussion about the parade after an article in the People's Daily revealed that China will hold a ceremony to demonstrate its military might while marking the 70th anniversary of World War Two.
The article says that the parade will "show China's determination to maintain the post-war world order" and also prove to be a "deterrence force against Japan".
Describing the wide attention over the news as a "fuss" and "farce", a China Daily article stresses that China is a "peace-loving country" and says the parade is "not aimed at planting hatred".
"China has no intention to taunt Japan by showing off its military might, even when Japanese politicians' words and actions have intensified tensions in East Asia," says the daily.
However, the paper reminds readers that Japanese politicians have attempted to "whitewash Japan's war crimes in past years".
China and Japan are currently embroiled in a territorial dispute. Beijing also accuses Tokyo of glossing over its war actions.
China's papers have cast doubt over Japanese PM Shinzo Abe's sincerity after he pledged earlier this month that he would "express remorse" over wartime history.
Echoing similar sentiments, experts tell the Global Times that the parade will "send a signal to Japan to not stray from the pacifist path".
A Global Times editorial expects the scale of the parade to be smaller than the National Day military parade held once every 10 years.
A large-scale parade was last held in 2009, marking the 60th anniversary of the establishment of the People's Republic of China.
"While the National Day military parade should keep an authoritative display of China's defensive power… the anti-fascist parade must stress the interconnection between China's military power and the determination to keep world peace," it says.
The Beijing News observes that preparations for the ceremony are yet to start.
Gong Fangbin, a professor at National Defence University, tells the paper that holding the parade will show the world that "China's military might is beneficial for world peace".
Access blocked
Elsewhere, a top official has warned foreign websites to "abide by Chinese laws", a day after authorities blocked several virtual private network (VPN) services.
"The development of the Internet has to be in accordance with Chinese laws," the China Daily quotes Wen Ku, a top official at the Ministry of Industry and Information Technology, as saying.
The daily explains that many foreigners and some Chinese use the services to access blocked information and Google-based business tools.
Defending the authorities, Charlie Dai, an information analyst, says it is "perfectly legitimate" for the government to block the services as some overseas organisations "spread information that is illegal in China" through such platforms.
The Chinese edition of the Global Times argues that the "successful" Great Firewall, an extensive web filtering system, has provided opportunities for domestic internet giants to expand.
"This probably is an 'accidental fruit' of the Great Firewall. If there was no such system or similar internet management, China probably would be infiltrated by Google, Yahoo and Facebook," it says.          
'Conversion treatment'
And finally, a gay rights activist has urged the government to ban hospitals from providing conversion treatment after she was advised by a doctor to receive the therapy.
The woman told the Global Times that doctors assured her that she would be fine "once the disease of homosexuality was cured".
She had gone to the hospital in Beijing to seek help after breaking up with her girlfriend.
According to her, one doctor told her that "being a lesbian is a psychological disease" and presented many "successful" cases of conversion treatment.
China decriminalised gay sex in 1997 and stopped regarding homosexuality as a mental disorder in 2001.
BBC Monitoring reports and analyses news from TV, radio, web and print media around the world. You can follow BBC Monitoring on Twitter and Facebook.