China seizes toilet rolls depicting HK leader CY Leung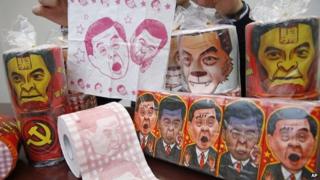 China's authorities have seized 7,600 toilet rolls and 20,000 packets of tissue printed with the image of Hong Kong chief executive CY Leung.
Hong Kong's Democratic Party, which had planned to sell the novelty items at a fair next week, called the seizure a violation of freedom of expression.
The tissues were confiscated from a factory in mainland China on Friday.
Mr Leung is unpopular with much of the Hong Kong public, and products mocking him have sold well in recent years.
The confiscated tissues depicted the pro-Beijing leader with a variety of expressions.
Some printed the word "lying" on his forehead, while others showed him with fangs - a reference to how his opponents have described him as a wolf.
The Democratic Party said the toilet rolls sold out at Hong Kong's annual Chinese New Year fair last year, and that they had planned to sell the products again this year to raise funds.
Lo Kin-hei, a vice-chairman of the Democratic Party, said that about $12,900 (£8,500) worth of goods had been confiscated, with no reason given.
There was no immediate comment from the mainland Chinese authorities.
Last year, tens of thousands took part in protests in Hong Kong, demanding democratic reforms.
China has promised direct elections for the post of chief executive in 2017, but ruled that candidates had to be vetted by Beijing, angering many activists.