Jackie Chan's son Jaycee released from jail in China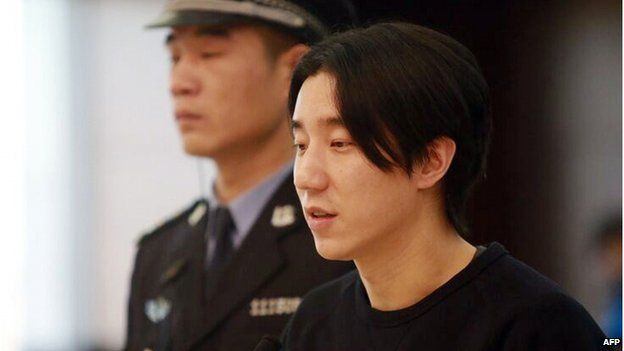 Jaycee Chan, the son of movie star Jackie Chan, has been released after being jailed for six months in China for a drug offence.
He was detained in August last year after a police raid on his home. He had tested positive for marijuana and was caught with 100g of the drug.
His arrest was part of a wider crackdown on drug use in China.
A Beijing court sentenced him in January, taking into account his time already spent in jail.
His management company, MStones, said in a statement (in Chinese) that Chan was released in the early hours of Friday.
It added that he was due to hold a press conference on Saturday "to deliver a public apology and explanation".
Chan, a 32-year-old actor and singer, was arrested with Taiwanese movie star Kai Ko, who was detained for two weeks for drug use.
But Chan faced a more serious charge of "providing a shelter for others to abuse drugs". He later pleaded guilty.
His father, action star Jackie Chan, is currently on a tour of Asia promoting his new film Dragon Blade.
He reportedly expressed relief about his son's release and said at a press conference in Singapore earlier this week that he was looking forward to finishing an album with his son "as soon as possible when he gets out".
Mr Chan was named an anti-drug ambassador in China in 2009.
He publicly apologised for his son's actions in December, saying on his microblog account that he was "very angry" and "ashamed".
The drug crackdown began in June 2014 when President Xi Jinping ordered police to use strong measures to stop drug abuse.
At least 10 locally-known stars, most of them minor celebrities, have been arrested so far, including movie and television stars, film directors and a screenwriter.
China has since banned the transmission of any works by stars who have used drugs or prostitutes. The ban applies to television, online media, film and publishing.