China media: Two-child policy?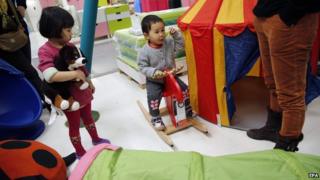 Papers round on a proposal that couples should have no fewer than two children to deal with China's ageing population problem.
China relaxed its longstanding one-child policy in 2013 in response to lower population growth, allowing couples to have two children if either parent is an only child.
But the change has attracted fewer applications than expected, and the birth rate has remained stagnant.
In response, a senior family planning official in northern Shanxi province believes the one-child policy should be fully relaxed, with all married couples being strongly encouraged have two children.
The comments by Mei Zhiqiang, deputy head of the province's family planning commission, sparked a heated debate in the papers and social media.
While acknowledging the problem raised by Mr Mei, the Global Times strongly rejects his suggestion, arguing that the authorities need to learn the lessons of the past and use less coercive family planning measures.
"It would be better to use encouragement and incentives that will be more easily accepted by the people" to promote the new aim of boosting the birth rate, a commentary in the paper argues.
The Beijing News agrees, saying Mr Mei's proposal is "a swing to another extreme" of birth control, insisting that the government has "no right to force the people to give birth".
For the Dahe Daily, the answer lies in easing the financial burden on married couples in order to encourage them to have a second child.
Genuinely peaceful?
In international news, papers are wary of Japanese Prime Minister Shinzo Abe's "peaceful intentions" after he called for a public debate on changing his country's pacifist constitution in a key policy speech on Thursday.
Under its post-war constitution, Japan is barred from using force to resolve conflicts except in defence of the homeland, and Mr Abe has in the past pushed for a greater role abroad for his country's Self-Defence Forces - a drive viewed with suspicion in Beijing.
A front-page commentary in the overseas edition of the People's Daily believes that Mr Abe's speech is another step towards changing Japan's security policy.
While acknowledging that that Japan has provided aid to other Asian countries and actively participated in peacekeeping efforts to build a "peaceful image", it voices concern that Japan may start to "interfere" in international affairs together with the US if its military's role is expanded.
"It is difficult to say if this move is really for the sake of peace," says the paper, urging that Japan instead "reflect on its history if it really wants to promote peace".
An opinion piece on China Radio International accuses Mr Abe of "using anti-terrorism as an excuse in breaking through the constitution" after two Japanese hostages were killed by the Islamic State militant group.
Power poetry
And finally, a senior provincial official has won media attention after presenting a 6,000-word official report written in the form of Chinese classical poetry, the Beijing News reports.
The work report given by Li Zhi, of Shanxi province, to a provincial meeting was full of "descriptive language", but short on "figures and data", according to the daily.
Opinions on Mr Li's work among internet users varied, with some praising it as an innovative attempt to make the genre more interesting, while others lamented the dearth of facts.
Commentaries in the papers, however, were not impressed at all.
"Although the style of language is refreshing, it does not really help improve the quality of the work report," the Beijing Times grumbles.
According to an opinion piece in the Beijing Youth Daily, Mr Li's effort was "full of empty words", and quite simply a "failure".
"Yes there is a need to change the report-writing style," it concedes, "but the aim should be to change officials' habit of exaggerating or using meaningless rhetoric, as they should let the facts speak for themselves".
BBC Monitoring reports and analyses news from TV, radio, web and print media around the world. You can follow BBC Monitoring on Twitter and Facebook.