Hong Kong Lamma ferry disaster captain jailed for eight years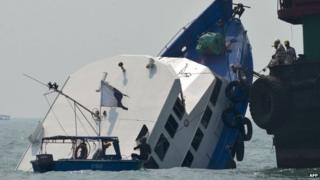 The captain of a passenger ferry that collided with another boat in Hong Kong, killing 39 people, has been jailed for eight years.
Lai Sai-ming, who captained the Sea Smooth in the 2012 collision, was convicted of manslaughter on Saturday.
His vessel hit a pleasure boat, the Lamma IV, which then partially sank.
The captain of the Lamma IV was acquitted of manslaughter but convicted of endangering the safety of others at sea.
The crash, near Lamma Island, was Hong Kong's worst maritime accident since 1971.
It happened on 1 October, China's National Day, when the Lamma IV was carrying employees of Hong Kong Electric and their families to watch a firework display.
Several of those who died were trapped inside the boat, which filled with water fast after the collision with the ferry ripped open its side.
Other people were thrown into the sea.
Judge Brian Keith told Lai that while the accident had been a "personal tragedy" for him, "it cannot begin to compare with the grief of those who lost their loved ones".
The Lamma IV's captain, Chow Chi-wai, was jailed for nine months.
An inquiry following the collision found safety standards on the Lamma IV had not been properly enforced and there had been a "litany of errors".
1. Hong Kong Electric boat departs power plant for firework display in Victoria Harbour
2. Ferry departs Hong Kong island on regular route to Lamma Island
3. Collision occurs north of Lamma Island. Damaged ferry continues to port at Yung Shue Wan. Lamma IV sinks.