China sacks police chief over salamander banquet scandal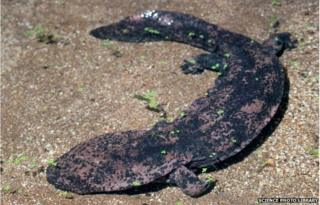 A Chinese police chief has been sacked after some of his colleagues roughed up reporters who caught them eating a giant salamander at a lavish banquet.
Wang Yuanping was reportedly dismissed for ordering officers to stand guard outside the restaurant and obstructing an inquiry into last month's incident.
Giant salamanders are critically endangered and a protected species.
However, Shenzhen police said on their blog late on Monday that the one at the banquet had been raised in captivity.
They also stressed that Mr Wang had paid the full bill from his own pocket but he nevertheless had been removed from office.
"His actions constituted an abuse of power and he broke discipline with his trickery," the police statement said.
The night turned violent when the officials realised that a journalist was taking photographs of them as they left the restaurant.
Local media said two journalist were surrounded by the officials and their security guards before allegedly being beaten up. Their equipment and phones were also stolen.
Twelve policemen who were suspended over the incident, which happened last month, have been reinstated, Reuters news agency said.
Officials have been discouraged from holding expensive feasts under President Xi Jinping's austerity and anti-corruption drive.
China last year also approved stricter penalties for people caught eating rare wild animals, with offenders jailed for up to 10 years.