China's Xi Jinping unveils new 'four comprehensives' slogans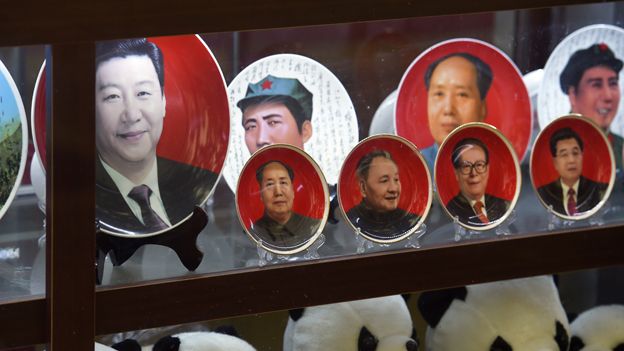 Chinese leader Xi Jinping has unveiled his new political theory, distilled into four slogans known as the "four comprehensives".
Among other things they call for a more prosperous China and deeper reforms.
State media celebrated the launch with a front-page editorial in the People's Daily that said it had "great weight".
Similar slogans have been put forward by his predecessors, including Hu Jintao's Three Supremes and Jiang Zemin's Three Represents.
Mr Xi denounced political jargon as "empty words" during a speech five years ago.
However, he launched his leadership in 2013 with the idea of the "Chinese dream", a concept many say is still ill-defined.
Critics say the Communist elite's obsession with jargon alienates them from plain-speaking Chinese citizens.
The People's Daily summed up the Four Comprehensives as:
Comprehensively build a moderately prosperous society
Comprehensively deepen reform
Comprehensively govern the nation according to law
Comprehensively strictly govern the Party.
The first three "comprehensives" are familiar territory for Chinese leaders, but the fourth seems a specific reference to the current anti-corruption campaign being prosecuted by Mr Xi.
Some of the party's most senior leaders have been snared in anti-corruption investigations.
Analysts say it is often difficult to establish whether the campaign is more concerned with corruption or simply with the elimination of Mr Xi's political rivals.
Numbered slogans have been a mainstay of the Communists since the 1950s.
The Cultural Revolution begun by Mao Zedong included phrases such as "smash the four olds".
Other leaders have opted for less number-orientated slogans, such as Deng Xiaoping's "reform and opening up".