Chinese Xinjiang Muslims 'fighting with IS'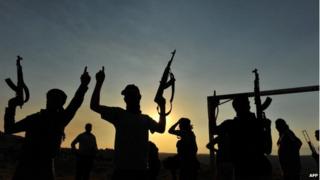 Chinese Muslims from Xinjiang have fought alongside Islamic State militants, a top Chinese official says.
The comments came from Zhang Chunxian, party chief in Xinjiang, which is home to the Uighur Muslim minority group.
Mr Zhang said some of the fighters had returned to Xinjiang "to participate in terrorist plots", but gave no further details.
Xinjiang, in China's far west, has seen a series of deadly attacks and clashes in recent years.
'Affected'
Speaking during China's annual parliament session on Tuesday, Mr Zhang said there were "Uighurs that have fled overseas and joined the Islamic State".
"The organisation has a huge international influence and Xinjiang can't keep aloof from it and we have already been affected," he said.
"We have also found that some who fought returned to Xinjiang to participate in terrorist plots."
---
Uighurs and Xinjiang
Uighurs are ethnically Turkic Muslims
They make up about 45% of the region's population; 40% are Han Chinese
China re-established control in 1949 after crushing short-lived state of East Turkestan
Since then, there has been large-scale immigration of Han Chinese
Uighurs fear erosion of their traditional culture
Why is there tension between China and the Uighurs?
---
Mr Zhang's comments come almost three months after state daily the Global Times reported that about 300 Chinese nationals were fighting with IS in Iraq and Syria, citing unidentified security personnel.
Confirming reports related to the situation in Xinjiang is difficult. Foreign journalists' access to the region, which borders Central Asia, is restricted, as is information flow out of it.
Beijing says Uighur separatists linked to overseas Islamic extremist groups are behind a recent upsurge in violence there.
An attack on an Urumqi market in May 2014 killed dozens, and a clash at a Yarkant police station in July also resulted in many deaths, though few details of that incident are known.
Attacks have also taken place outside Xinjiang, such as the mass stabbing at Kunming station in March 2014.
Chinese authorities have responded to these attacks with a security crackdown and increased restrictions on Uighurs.
Experts, meanwhile, play down links between Uighurs and overseas groups, saying there is little evidence.
Activists categorise some of the incidents - such as the Yarkant clash - as Uighurs reacting to local triggers such as restrictions on religious and cultural freedom.
They also blame Beijing's policies for alienating some young people.