McDonald's China fries supplier gets pollution fine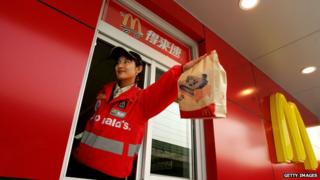 Beijing has given its biggest ever pollution fine to a company which supplies French fries to McDonald's in China, state media report.
Beijing Simplot Food Processing will have to pay 3.9 million yuan (£408,000; $629,000) after its waste water was found to have levels of impurities above legal limits.
The company said it also serves other companies in East Asia.
It said it had paid the fine and would take steps to avoid a recurrence.
McDonald's said in a statement that it took the issue "very seriously" and would be monitoring Beijing Simplot's compliance. It said it suppliers "must comply with all relevant local laws and regulations".
A small amount of polluted water had entered the city's main water pipes, but was not dangerous to the public, a local official was quoted as saying by Jinghua Daily News.
China has been facing international pressure to clean up its environment and an increasing number of local protests concerning pollution.
In January it put in place a new environmental law with tougher penalties. Earlier this month, it launched a 10-point plan to target water pollution.
The plan aims to make nearly all of its urban water drinkable in the next few decades, and will see small water-polluting factories shut down by the end of the year. Larger plants found to be polluting will be forced to conduct clean-ups.
A court on the eastern Jiangsu province set the country's biggest fine for pollution in December last year when it fined six companies 160m yuan for polluting rivers.