Why Narendra Modi's first China stop is Xian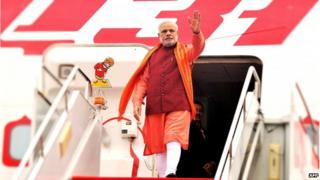 Indian Prime Minister Narendra Modi's choice of Xian as the first stop on his three-day official visit to China is not an obvious one.
The first choice for leaders in his position is of course Beijing. It is unusual for China's leaders to travel outside the capital to meet their visitors.
So why is Mr Modi flying into the ancient city in Shaanxi province, 1,000km (600 miles) away from the capital?
Power base
Last year Mr Xi kicked off his tour of India in Gujarat state, where Mr Modi made his name by ruling as chief minister before becoming prime minister.
Mr Modi is now returning the favour, by visiting one of Mr Xi's power bases.
Shaanxi has deep significance for Mr Xi - the province was his father's old stronghold before the top official was purged from the party.
And it was in Shaanxi where Mr Xi said he experienced a political awakening when he was sent there in 1969 under the Down to the Countryside Movement - part of the Cultural Revolution where urban youth were made to labour with peasants.
It was where he first began his career with the Chinese Communist Party and formed the "Shaanxi Gang" of confidantes who, some say, later helped him consolidate power.
Buddhism
Mr Modi will visit the Big Wild Goose Pagoda during his trip, an important icon in Chinese Buddhism.
It houses Buddhist texts and relics brought from India by Chinese monk Xuanzang, whose voyage was immortalised in Journey to the West - one of the most famous novels in Chinese culture.
Mr Modi has repeatedly emphasised the Buddhist link between China and India ahead of his visit.
"Everyone acknowledges that the 21st Century is the Asian century. Asia is the land of Buddha, we have the duty to ensure that we avoid war in this century," he said on the eve of his trip.
Silk Road
Xian - the name in Chinese translates to "peace in the west" - is the ancient imperial capital of China and has long functioned as an important link to India.
It was the eastern end of the old Silk Road trade route, and is thus also a symbol of close diplomatic and economic ties. China is India's biggest trading partner.
Mr Xi wants to build a modern-day Silk Road Economic Belt and a Maritime Silk Road to boost trade and infrastructure in the area.
India, however, has been reluctant so far and has voiced reservations, particularly over planned Chinese investments in Pakistani-administered Kashmir.
Xian might, therefore, make an appropriate setting for the leaders to discuss those concerns.