China urged to release Panchen Lama after 20 years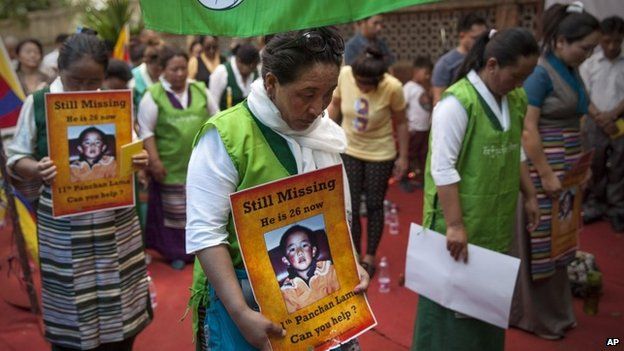 Tibetan exiles are calling for China to release a high-ranking monk who disappeared 20 years ago when he was just six years old.
The boy was detained by the Chinese authorities just three days after the Dalai Lama declared him to be the reincarnated Panchen Lama.
The Panchen Lama is the second most important figure in Tibetan Buddhism.
Many consider him to be one of the world's longest-serving political prisoners.
China has refused provide details of the whereabouts of Gedhun Choekyi Nyima.
In 1995 it anointed its own Panchen Lama, Gyaltsen Norbu, who while popular among some Tibetans has been described by exiles as a "stooge of the atheist Chinese Communist Party government".
Wangdue Tsering, press spokesman for the Office of Tibet in London, told the BBC that events were taking place on Sunday across the world to mark the 20th anniversary of Gendhun Choekyi Nyima's disappearance, including a candle-lit vigil outside the Chinese embassy in London.
Tibet's competing Panchen Lamas
Named as the 11th Panchen Lama by the Dalai Lama on 14 May 1995
Detained by Chinese authorities within three days of his appointment
China has divulged little information about him or his whereabouts - it says this is necessary to protect him from being "kidnapped by separatists"
Banned from meeting foreign visitors, China says he has attended school and is now leading a normal life in China
His parents are both employed by the state, China says, and his brothers and sisters are either working or at university
Chosen by Beijing as the reincarnation of the Panchen Lama when he was six
The son of two Communist Party members
Spent his early childhood in Beijing before moving back to Tibet to study Buddhism
He was selected by drawing lots from a golden urn - a custom introduced in 1792 and used to select previous Lamas - but which critics say has been manipulated by the Chinese authorities
Gave his first appearance outside of mainland China to address more than 1,000 monks in Hong Kong in April 2012
"We are appealing to the world community to help us find out where the Panchen Lama is," Mr Tsering told the BBC's Asia analyst Michael Bristow.
"It's 20 years since he disappeared and we don't know where he is, where his family is and how he is. We want the Chinese authorities to give some information."
The Dalai Lama has in the past strongly criticised China for "brazen meddling in the system of reincarnation" - especially the reincarnation of the Dalai Lamas and Panchen Lamas.
Tibet is governed as an autonomous region of China. Beijing claims a centuries-old sovereignty over the region, but many Tibetans argue that Tibet was colonised.
China sent in thousands of troops to enforce its claim on the region in 1950. Some areas became the Tibetan Autonomous Region and others were incorporated into neighbouring Chinese provinces.
In 1959, after a failed anti-Chinese uprising, the 14th Dalai Lama fled Tibet and set up a government in exile in India.
Beijing views the Dalai Lama as a separatist threat, although he has repeatedly stated that his goal is for Tibetan autonomy rather than independence.
Related Internet Links
The BBC is not responsible for the content of external sites.