Yangtze sinking: Could Mei-yu front be behind disaster?
By Peter Gibbs
BBC Weather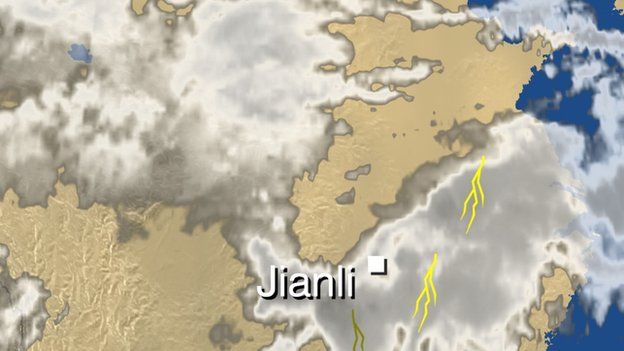 Satellite pictures show some large thunderstorm cells in the region where the Yangtze river cruiser capsized.
Storms like these, towering several kilometres into the sky, are certainly capable of generating some very squally winds or even tornadoes - which the captain of the stricken vessel is reported to have claimed.
However, these dangerous winds are usually quite localised and so it is not possible to say whether they were the direct cause of this accident.
The term "cyclone" normally refers to large rotating oceanic storms - like hurricanes and typhoons - but is sometimes incorrectly applied to much smaller-scale tornadoes.
This part of China is affected by a weather feature known as the Mei-yu front during spring and early summer. This has brought the wettest rain for 40 years in southern parts of China.
Generated by a fast-moving jet stream in the upper atmosphere, this front stretches all the way from east China, across Taiwan and out into the open Pacific to the south and east of Japan.
It was this same weather feature that caused the Solar Impulse experimental aircraft to turn back from its attempt to cross the Pacific on Monday.
Warm, humid tropical air is forced to rise, causing pulses of large thunderclouds to run eastwards along the frontal zone generating torrential rain and on occasion, damaging winds.