China airs 'bomb attack confession' from Xinjiang man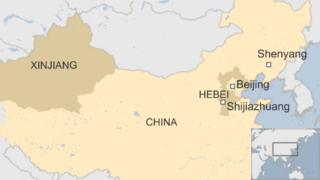 China's state broadcaster has aired an interview with a man it says was planning a bomb attack on a shopping centre in Hebei in northern China.
The man, reportedly from Xinjiang, confessed to travelling to Syria via Turkey for training, and planning a suicide attack, state media said.
The report did not specify when the man was detained or what charges he faced.
China tightly controls information on alleged terrorist incidents, making it hard to independently verify reports.
China's western Xinjiang province, home to a significant Muslim Uighur population, has seen several clashes and public attacks in recent years, which police have described as terrorist attacks.
However, such incidents are rare outside of Xinjiang.
'Please forgive me'
The interview, broadcast on CCTV, showed the man, named as Ai Ke Bai Er, with his head shaved and dressed in prison clothes.
He said he had intended to "target a shopping centre" in the northern city of Shijiazhuang, and train others to carry out attacks elsewhere in China.
He described receiving bomb-making training in Syria in uncomfortable conditions, and urged others not to believe in terrorist propaganda.
At one point, he broke down in tears and apologised to his parents. "I would like to say to my mother, please forgive me," he said.
The interview is part of a long tradition of trial by television in which suspects are paraded confessing their crimes before any court proceedings have begun, the BBC's John Sudworth in Shanghai reports.
State media is heavily controlled by the ruling Communist Party which is currently engaged in a harsh security crackdown in Xinjiang, our correspondent adds.
---
Uighurs and Xinjiang
Uighurs are ethnically Turkic Muslims
They make up about 45% of the region's population; 40% are Han Chinese
China re-established control in 1949 after crushing short-lived state of East Turkestan
Since then, there has been large-scale immigration of Han Chinese
Uighurs fear erosion of traditional culture
Xinjiang is officially designated an autonomous region within China, like Tibet to its south
---
Last week, police in the north-eastern Chinese city of Shenyang shot dead three "knife-wielding" men they described as Xinjiang terrorists.
Beijing has blamed previous clashes in Xinjiang on Uighur separatists inspired or supported by overseas extremists groups. Activists however say China's policies towards Uighurs are repressive and are fuelling significant resentment.