Why China has fallen in love with a baby radish monster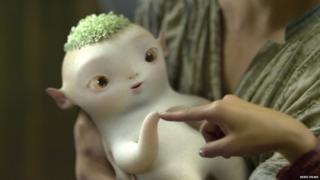 Huba, cat-sized, resembling a radish with four arms and pointy ears, is the star of China's biggest local film to date.
The green-haired creature is the main character of Monster Hunt, which has swept the box office since it opened on 16 June.
The plot is, well, unconventional and yet it has collected more than 1.317bn yuan ($212m, £137m) to date. The BBC's Tessa Wong explains why.
Surreal slapstick
Monster Hunt tells the story of hapless villager Tianyin who gets impregnated with Huba by a monster queen.
Tianyin becomes the target of monster-hating humans as well as monster revolutionaries bent on capturing Huba, who is the heir to the monster kingdom.
Though it sounds bewildering - The Hollywood Reporter called it "a confused and confusing fantasy adventure" - the film has become a huge hit, in part thanks to its familiar appeal to Chinese audiences.
Its slapstick humour - one gag involves Tianyin breastfeeding Huba - is typical of many Chinese comedies, and is best exemplified by the Hong Kong mo lei tau (Cantonese for nonsensical) films of the 1990s.
Two veterans from that genre, Sandra Ng and Eric Tsang, play bit parts in Monster Hunt.
Mo lei tau comedy was a style popularised by Hong Kong comedian Stephen Chow, and in fact Monster Hunt bears some similarities to one of his biggest hits, CJ7, which previously held the China box office record.
The 2008 film starred Chow as a construction worker who discovers a green alien.
Both films feature a fantasy-comedy theme, a bumbling main character who has to protect a cute monster, and a blend of live-action and computer-generated imagery.
Kung Fu fighting
With its elaborate costumes and sets, fight sequences, and fantasy setting which resembles ancient China, Monster Hunt has the look and feel of a wuxia (martial arts hero) film.
Wuxia is a hugely popular and classic genre in Chinese literature, film and opera, and features the swashbuckling adventures of a young male protagonist as he embarks on an epic journey.
The twist, in Monster Hunt, is that Tianyin is not quite the hero as he goes on the run.
Instead he is protected by female warrior Xiaonan, who is a trained monster hunter and agrees to protect Tianyin if she gets to later sell Huba for a profit.
Foreign restrictions
One reason why the film may have done so well is that China severely restricts the release of foreign films to just 34 titles a year so that local titles have a better shot at scoring at the box office.
Those that do get approved for release often get delayed opening dates so that local films can get maximum exposure - a restriction especially apparent in the summer.
In Monster Hunt's case, there was only one foreign film that was allowed to be released in the same week - Shaun the Sheep Movie - reported Variety.
China is not likely to see another foreign film opening until the end of July, according to The Hollywood Reporter.
Controversial ending
Fans have been lapping it up with the film generating buzz online - though some have taken issue with its denouement (warning: spoilers ahead).
After several trials and tribulations, Huba parts ways with Tianyin and Xiaonan and returns to the monster world.
The ending has sparked controversy on social network Weibo, with many calling for a happier ending.
A post by Weibo user Healer_ChenXuelian commenting on that scene has since gone viral and been shared more than 9,000 times. "The ending where Huba was abandoned really made me feel anguished," she wrote.
Her post attracted hundreds of replies, many of them with crying emojis. "That last scene when Huba... finds that it's all alone is just too cruel," said one user.