China explosions: Firm owners 'used connections to get licences'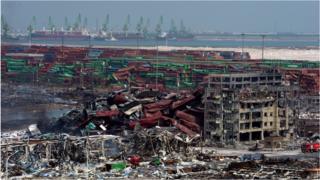 The owners of the firm whose warehouse exploded in the city of Tianjin on 12 August used connections to get licences to store hazardous chemicals, state media report.
The state-run Xinhua news agency said they were able to obtain them even though the warehouse was closer to residential areas than allowed.
They are also alleged to have used proxies to hide stakes in the firm.
At least 114 people were killed and nearly 700 injured in the blasts.
Xinhua says it had gained access to executives of the Tianjin International Ruihai Logistics company who are currently in police detention.
Company head Yu Xuewei told the agency that he was the owner of the company, but that he held shares through his cousin.
Mr Yu had previously been an executive at a national chemical company.
Deputy head Dong Shexuan is the son of a former police chief of Tianjin port.
"My connections is in police and fire. When we needed a fire inspection, I went to meet officials at the Tianjin port fire squad. I gave them the files and soon they gave me the appraisal," Dong said, according to Xinhua.
The warehouse was storing hundreds of tonnes of sodium cyanide, far more than legally allowed, it has emerged.
It was was also within 500m (1,640ft) of homes, in violation of laws that require a 1km minimum distance.
Residents have been staging protests demanding compensation for property damage from the government.
Thousands of people had to evacuate their homes after toxic chemicals were detected in the air following the blasts at the world's tenth-busiest port.
The magnitude of the first explosion was the equivalent of detonating three tonnes of TNT, while the second was the equivalent of 21 tonnes of the explosive.
Some 17,000 homes were damaged by the explosions and their shockwaves.
China's top prosecutor is reported to be investigating all involved officials for dereliction of duty and other crimes.
Meanwhile, heavy rain hampered recovery efforts on Tuesday.
Experts expressed concern that rain could spread some of the vast quantities of hazardous material at the site or set off chemical reactions, sparking further explosions.
---
Tianjin - the toll
Officials now say 114 people died in the explosions
Still missing: 70, mostly firefighters
Nearly 700 are still in hospital
At least 6,000 people have been displaced, state media report
Some 17,000 homes damaged by the blasts and their shockwaves
---
---
---
What is sodium cyanide?
The chemical sodium cyanide is white crystalline or granular powder which can be rapidly fatal if inhaled or ingested, as it interferes with the body's ability to use oxygen.
It is mostly used in chemical manufacturing, for fumigation and in the mining industry to extract gold and silver.
It is soluble in water, and absorbs water from air. Its dust is also easy to inhale. When dissolved or burned, it releases the highly poisonous gas hydrogen cyanide.
Potent chemical mix behind blasts
The questions being asked by Chinese citizens
'Like the end of the world': Residents' stories
---