Beijing security: 'Possible threat to Westerners' governments warn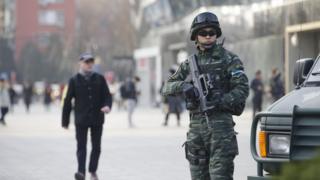 The UK and US governments have issued a warning about possible threats against Westerners in the Chinese capital Beijing on or around Christmas Day.
British and US officials say they have received information of possible threats in Sanlitun, which is a busy bar and shopping district.
The Australian and French governments have also urged their citizens to remain vigilant.
Beijing police have issued a yellow security alert in the city.
A yellow alert is the second lowest level in China's four-level security alert system.
The alert means there will be increased security checks in shopping areas, and rubbish bins in public areas will be checked every 30 minutes, state news agency Xinhua reports.
There was an increased police presence in Sanlitun on Thursday, with armed police deployed outside shopping malls.
There were no further details from French, Australian, US and UK officials.
Beijing police said in a microblog post (in Chinese) that they had implemented the yellow alert in Beijing's large and medium sized shopping areas to "maintain social order".
The Sanlitun area, in Beijing's Chaoyang district, contains many bars and restaurants popular with foreigners.