China dinosaur egg theft suspect arrested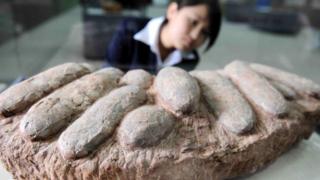 China has arrested four suspects over the theft of about 80 fossilised dinosaur eggs.
The eggs are alleged to have been stolen from a collector in eastern Zhejiang province.
One of the suspects, known only by his surname of Wang, is alleged to have visited the collector while feigning interest in making a purchase.
All four suspects are all now in custody. They are accused of dividing the eggs between them, Xinhua reported.
Mr Wang is accused of taking taking 27 eggs to his home in Heilongjiang province where they were recovered by police. But the remainder - about 50 eggs - are not accounted for.
Revealing the secrets of life inside a dinosaur egg
Three of the suspects are accused of helping Mr Wang steal the eggs on the evening of 9 January and then fleeing to Shanghai.
China is one of the world's biggest sources of fossils, especially the southern city of Heyuan,
Many fossils found in China and nearby Mongolia are often exported illegally and sold for large profits to collectors.