China Communist Party Youth Twitter account prompts abuse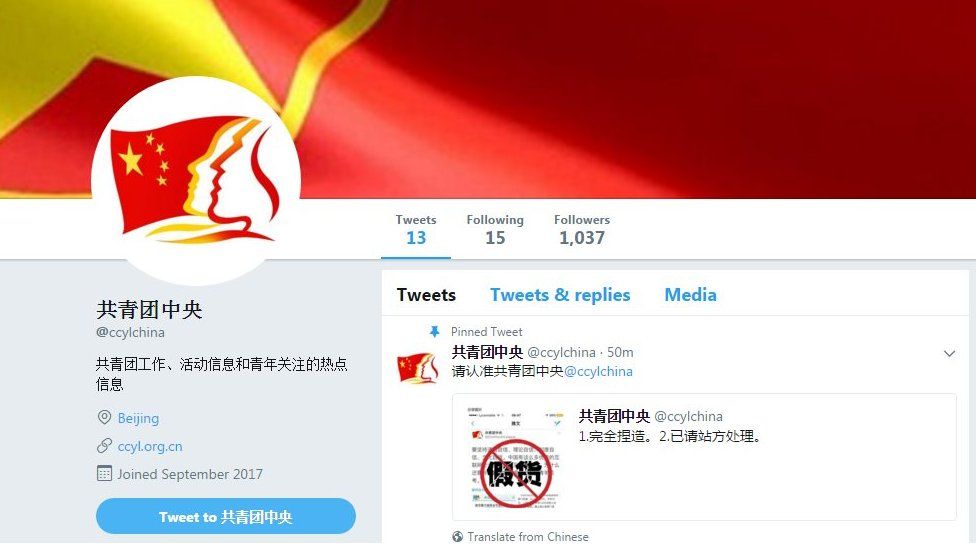 Setting up a Twitter account may seem a fairly obvious thing for a political party to do, but the step has not so far worked for an account in the name of China's Communist Party.
The account, which claimed to be from the party's youth wing, made its debut on Friday with a chirpy one-liner - "I'm here!" - and a picture of what appeared to be cartoon communist rabbits.
It was immediately met with a barrage of tweets asking how the Party was getting around China's Twitter ban.
But then late on Monday, the Youth League strongly denied that it had a Twitter account at all.
The BBC is not responsible for the content of external sites.
Skip twitter post by 共青团中央
Allow Twitter content?
This article contains content provided by Twitter. We ask for your permission before anything is loaded, as they may be using cookies and other technologies. You may want to read Twitter's cookie policy, external and privacy policy, external before accepting. To view this content choose 'accept and continue'.
The BBC is not responsible for the content of external sites.
End of twitter post by 共青团中央
The Twitter bio for @ccylchina says the account provides "information on the work and activities of the Communist Party Youth League and hot topics among youths".
It has posted more than dozen times since its launch - in Chinese - covering patriotic topics like the anniversary of the Japanese invasion in 1931 and links to state media articles.
China closely controls what can be posted and seen online, and is steadily tightening its restrictions.
So angry internet users who assumed the account was real responded with questions about how it had managed to circumvent the "Great Firewall" surrounding China's internet and accusing the youth wing of hypocrisy.
"Go back behind the firewall" and "Give us our VPN" were some of the more popular - and printable - responses to @ccylchina.
Chinese users have always used VPNs to access Twitter and other banned sites by making it seem like their device is in another country.
But dozens of VPN apps have been withdrawn in China in recent weeks after the government issued new rules requiring them to get a licence. It has also been reining in social media and messaging apps in recent months.
"Please tell me what kind of miraculous VPN you've used to circumvent the firewall... how brazen you are, you should know that those who do so can be caught!" wrote Twitter user Maoyaodong.
Other criticism referenced Weibo, China's heavily censored Twitter-like microblogging platform. One user warned: "This isn't Weibo [where you can] scrub away opinions, get lost."
The Youth League has now insisted the account is not an official one.
Some of the tweets were no longer available on Tuesday.
It's not the first Twitter account in the Youth League's name to appear this month.
@ComYouthLeague. appeared on Twitter on 12 September in a very similar way - with a tweet, announcing "Hello Twitter" - and has also been posting patriotic links and news stories. It met similar questions about firewalls and VPNs.
Apparently in an attempt to make itself look more official, @ccylchina warned its followers that one was a fake account, saying: "Please look for the Central Communist Youth League."
It posted a picture - crossed out - of a tweet from @ComYouthLeague which talked about respecting China's internet laws.
The ComYouthLeague responded seeming slightly wounded, saying its post was "not fabricated nor fake" but aimed to reflect "the positive energy that Chinese youth should have".
Neither account has yet gathered a substantial following yet - in fact @ComYouthLeague is slightly ahead with 1,666 followers at the time of writing.
But that's perhaps unsurprising given the limited Twitter audience in China, where organisations are far more likely to rely on the likes of Weibo to interact with the public.
The Global Times article noted that CCYL already has more than five million followers on its Weibo account and 400,000 on WeChat.