China's Class of 1977: I took an exam that changed China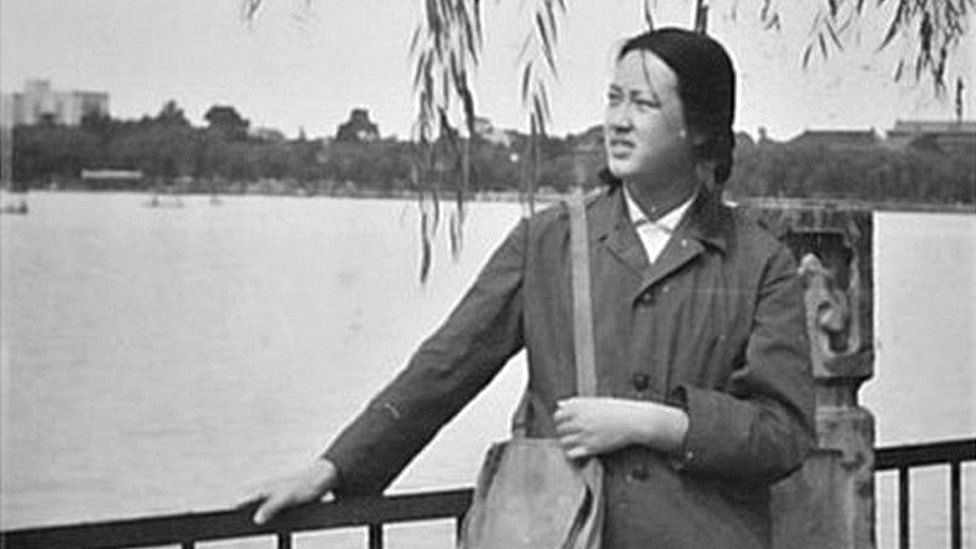 Forty years ago China reinstated its all-important college entrance exam after a gap of more than a decade when the country was plunged into the chaos of the Cultural Revolution. More than five million people sat the exams in the hope of securing a university place. The BBC's Yuwen Wu describes what it was like to be among them.
On 10 December 1977, I took a bus to No 35 Middle School in the West City District of Beijing to do something young people in China hadn't done for more than 12 years.
I was taking part in the first college entrance examination since 1965.
There was subdued yet palpable excitement and expectation in the cold winter air, because for the first time in years we had our destiny in our own hands. In my pocket I clutched a bar of chocolate from my father. It was his way of supporting me - I'd never tasted chocolate before.
During the Cultural Revolution, normal learning at schools and universities was interrupted, teachers and intellectuals found themselves publicly humiliated and beaten; some were driven to suicide. It was not a good time for those who valued a formal education.
Most people associate 1978 with the start of China's reform and opening up, but it was in 1977 that momentum for that change was slowly building up - and the exam was hugely symbolic.
In February that year, I got a job as a teacher of English in a primary school in Beijing.
I had just spent three years at a language school that trained teachers, and considered myself lucky to be staying in the city rather than being sent to the countryside, like my four siblings and many of my classmates.
Of course I had always wanted to go to university, but realising that it was not possible at that time, and might not be possible ever, I got down to work.
I was tasked with teaching English to 200 grade three pupils aged 10, divided into four big classes. Within a week, I knew all their names, and I tried to instil in them a love for English, and was given a lot of support from other teachers.
I even did a master class for the whole school, and it looked like I was on track to become an excellent teacher.
One warm autumn day in 1977, I had just returned from a month in the countryside with the pupils, when my mother told me, in a very excited tone, that the government had decided to restore the college entrance exams from that winter, and I might be able to take part.
I couldn't believe my ears. "Is it real or is it a bad joke? Do I finally have a chance to study at university?"
It turned out that Deng Xiaoping, purged by Mao Zedong during the Cultural Revolution and rehabilitated as vice premier in 1977, had decided to tackle education as his priority.
He called a meeting in August 1977 to discuss the possibility of restoring college entrance exams. Many were in favour, but others were not sure, the main obstacle being that Chairman Mao had endorsed selecting college students from workers, peasants and soldiers' backgrounds and there was little time to prepare for the switch.
But Mr Deng made the historic decision to start the new system that year, which sent a ripple of excitement up and down the country, not least in the school where I worked.
Eight young teachers wanted to do the exams. Our principal told us she supported us but couldn't give us leave to prepare for the exams. So we should carry on teaching as usual, but could skip the meetings.
What followed were many long evenings revising for exams while preparing for the classes the next day. But I was in high spirits and didn't feel tired at all. My mother sat up late into the night with me, knitting in the background and testing my knowledge of history from time to time.
I applied to read English at Peking University on my father's advice.
I remember doing the Chinese exam on the first day; there was a composition which asked what we had done in that historic year.
This played right into my hands - a new job, teaching 200 children English. We also did an English and maths exam.
After passing the written tests, I took oral exams at Peking University, followed by a medical check-up, and a long wait for the final results.
They came in a pretty dramatic fashion.
On the last Saturday of the winter vacation in February 1978, all the staff members including eight of us exam takers were asked to make preparations for the new school year, while the principal went to pick up the results on our behalf.
If it was good news, this would be our last day at this school; if it was bad news, we would return on Monday to carry on being a teacher there.
Factbox: The Class of '77
College examinations were suspended in 1966 when Mao's Cultural Revolution swept the country. Students were mobilised to take part in the revolution, so formal schooling was interrupted.
From 1968, millions of young people were sent to the countryside to be re-educated by "peasants".
From the early 1970s, universities and colleges started to take in students again, from workers, peasants and soldiers' backgrounds, and they were mostly recommended for good political behaviour rather than through open competition.
Some 5.7 million people took part in the college entrance examinations in 1977 and 273,000 got places, an admission rate of 4.8% - the lowest in history.
Admission rates these days for the college exam - the gaokao - are significantly higher but the stakes are still high.
The news came just before midday. Five of us had places in various universities. I got into Peking University. It all seemed a bit surreal.
The principal hastily called a farewell meeting and we were each given a notebook as a leaving present.
A few days later, I checked into Peking University, and the rest is history.
We are known as the Class of '77 - even though we started our degrees in 1978. If you mention this term to people above a certain age, they will immediately associate you with life experience, hard work, a strong sense of responsibility and good luck.
"You caught the first train," they would say.
I am very proud to be a member of the Class of '77 and bear witness to a historic event in recent Chinese history.
The exams in that year marked the beginning of China's opening up and reform and the Class of '77 went on to become the backbone of China's transformation for the next four decades.
They were professors, scientists, lawyers, doctors, writers and leaders in their fields, among them the current Chinese premier Li Keqiang, who studied law and economics at Peking University, my alma mater.
It was clear this generation would be the elite tasked with the responsibility of bringing the nation out of a period of darkness. There has been enormous economic progress, but there are also many voices that question the pace of political change.
I fulfilled my dream of a university education and it is indisputable that China took a huge step towards correcting the wrongs of the Cultural Revolution.