China rights lawyer Yu Wensheng loses licence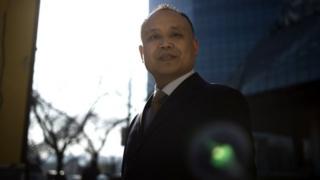 A Chinese human rights lawyer says his licence has been revoked three months after he wrote an open letter criticising the ruling Communist Party.
Yu Wensheng, 50, received the news in a letter from Beijing's Bureau of Justice on 15 January, a photo of which he has since tweeted (in Chinese).
Mr Yu has long been a frequent and vocal critic of the government.
He is among hundreds of human rights lawyers who have recently been detained and interrogated by authorities.
According to the letter, Mr Yu's licence was cancelled because he had not been employed by a licensed legal firm in the past six months.
Mr Yu's wife, Xu Yan, said in a statement that her husband had tried setting up an independent legal practice after he left his old firm last year.
But he had received another letter on 12 January in which the Beijing municipal authority refused his application to set up a practice.
It said: "Through investigations, this organisation found you have openly expressed opposition to the [Communist] Party's leadership".
As a result, it said, his behaviour did not meet the standards required of practising lawyers.
Mr Yu, a former commercial lawyer, was first arrested in 2014. He disappeared for three months after staging a public protest over not being allowed to meet a client who had been detained.
He was again arrested in 2015 after he alleged that he had been tortured in police custody.
Mr Yu was in a team of lawyers that tried suing the Chinese government over its failure to improve air quality in the capital, Beijing.
He even tried defending a fellow lawyer, Wang Quanzhang, who was also detained by authorities.
Mr Yu has been especially outspoken about the government's crackdown on human rights lawyers, which intensified in the middle of 2015, halfway through President Xi Jinping's first term.
In 2017, China jailed a prominent human rights lawyer, Jiang Tianyong, and also tried another, Xie Yang, who allegedly admitted to being "brainwashed" overseas during his trial, which was not open to the the public or the media.
More than 300 lawyers, legal assistants and activists have been questioned, and more than two dozen have been formally investigated since 2015.
While some have been sentenced to long jail terms, others are still awaiting a sentence. At least one is reported to have disappeared.