Shanghai van hits 18 pedestrians outside Starbucks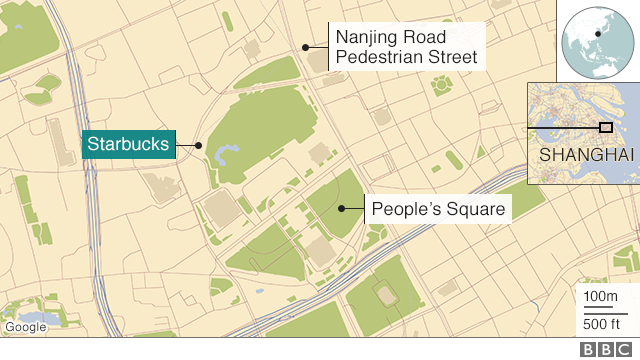 A van has ploughed into pedestrians outside a Starbucks cafe in a busy public square in Shanghai, China, after catching fire.
At least eighteen people have been taken to hospital, three of them with serious injuries, authorities say.
The fire was caused by the driver, who was smoking a cigarette as he drove and lost control of the vehicle, Shanghai officials say.
The driver has no criminal record and is receiving treatment.
According to a statement posted on micro-blogging site Weibo by Shanghai's public security bureau, he is suspected of illegally transporting dangerous substances.
Witnesses had earlier told local media that there were gas canisters inside the vehicle. The People's Daily newspaper said the fire had now been put out.
The incident happened at about 09:00 (01:00 GMT), when the area would have been packed with shoppers and commuters.
Images circulating on social media, which could not immediately be confirmed, showed a minivan with flames inside on the pavement outside the cafe.
The cafe is on People's Square at the far end of Shanghai's busy Nanjing Street shopping district and above a major subway interchange.
Reporters at the scene said the site had been cleared up quickly, with a small police presence in place.
According to local news reports, there were six people in the vehicle.