Chinese Premier Li Keqiang calls for crackdown on vaccine industry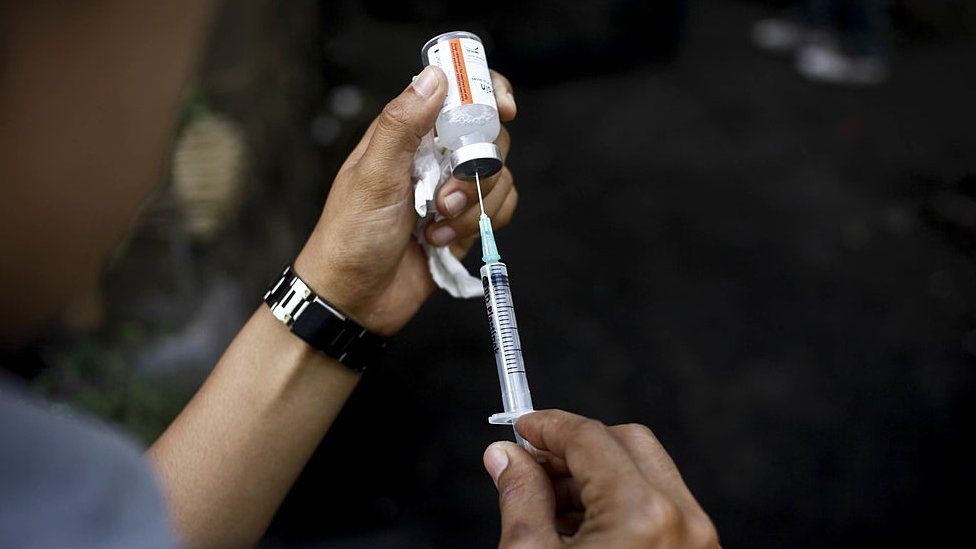 Authorities in China have ordered an investigation into a vaccination scandal as panic grows over product safety.
Last week vaccine maker Changsheng Biotechnology Co was found to have falsified production data for its rabies vaccine.
The firm has been ordered to halt production and recall rabies vaccines.
There has been no evidence of harm from the vaccine, but the scandal has sparked a huge outcry in China.
Changsheng, which suspended trading in its shares for part of Monday, saw their value drop by 10% on the day.
The shares have slumped 47% since mid-July, when news of the scandal first broke.
On Sunday, Chinese Premier Li Keqiang urged severe punishment for the people involved, saying the incident had "crossed a moral line".
"We will resolutely crack down on illegal and criminal acts that endanger the safety of peoples' lives, resolutely punish lawbreakers according to the law, and resolutely and severely criticise dereliction of duty in supervision," he said in a statement posted on a government website.
The China Food and Drug Administration (CFDA) said the rabies vaccine had been recalled and that the company would be put under investigation.
Days later, Jilin province authorities announced a 2017 batch of the firm's diptheria, tetanus and pertussis (whooping cough) vaccine - or DTaP - was also substandard.
According to state media outlet CGTN, more than 250,000 doses of DTaP in the batch had already been sold to disease control and prevention centres in eastern China.
The company has now been ordered to pay a fine of 3.4m yuan ($510,000; £387,957).
How will this affect people?
According to the CFDA, there is no evidence that anyone has been harmed by the vaccine.
Concern has now shifted to the safety of the DTaP vaccine.
The vaccine is subsidised by the government and is given to infants across the country.
It is not known how many children have received the vaccine, but there have not been any reports of children falling ill after receiving the inoculation.
The Chinese government has not said what impact the substandard vaccine could have on a person's health.
What has the reaction been?
"My son will be vaccinated next month. I don't know whether or not to let him," said another.
Chinese censors have also identified the issue as highly sensitive. A widely circulated article pointing out murky practices in the vaccine industry in China was deleted.
This is not the first time substandard vaccines have been produced in China.
In 2016, an illegal vaccine ring which involved hundreds of people was uncovered.
Some $88m worth of vaccines were found to be inadequately refrigerated and were not transported in approved conditions.