China targets video gaming to tackle myopia in children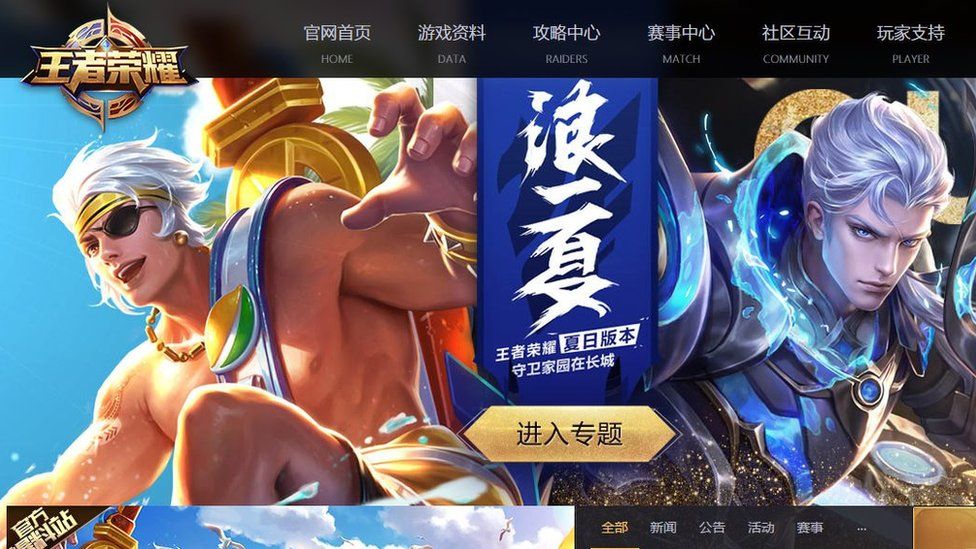 Chinese authorities have announced plans to control video gaming as a response to rising levels of near-sightedness among children.
Regulators want to limit the number of new online games, restrict playing time and develop an age-restriction system.
A report in 2015 found 500 million Chinese suffered visual impairment, nearly half the population over five.
China is the world's biggest gaming market and shares of local tech firms dropped sharply in response.
The Chinese ministry of education released the new policy plans on Thursday after President Xi Jinping earlier this week called for greater national attention on optical health.
The document blamed the high levels of myopia on a heavy study load, the spread of mobile phones and other electronic devices, and a lack of outdoor activities and exercise.
There is no consensus that gaming is causing myopia but studies have raised it as one possible cause.
There has been a massive rise in short-sightedness around the globe in recent decades, with East Asian countries having the highest rates.
The authorities have, however, recently raised wider concerns about the industry.
Last year, another game by the same publisher - Honour of Kings - was described as being "poison" and a "drug" by the People's Daily newspaper, following concerns that children were spending too much time playing it.
Censors had also stopped issuing local video games licences in March, which has caused delays to the release of new titles and new features for existing games.
Stocks of Chinese gaming companies plunged on Friday in response to the new policies.
Tencent's shares fell more than 5%, wiping more than $20bn (£15.37bn) off its market price.
The firm is thought to account for 42% of the country's mobile gaming market.
Tencent has, however, just announced plans to form a "strategic alliance" with one of Japan's biggest video games firms, Square Enix - the maker of the Final Fantasy series.
This has the potential to further reduce Tencent's reliance on its home market.
It already owns stakes in Fortnite's maker Epic Games, Assassin's Creed's developer Ubisoft, Call of Duty's owner Activision-Blizzard, and League of Legend's Riot Games, among others.
"More Chinese companies will be looking at international markets as a way to offset regulatory challenges in the domestic market," commented industry analyst Piers Harding-Rolls from the IHS Markit consultancy.