Hong Kong protests: Flights cancelled as thousands occupy airport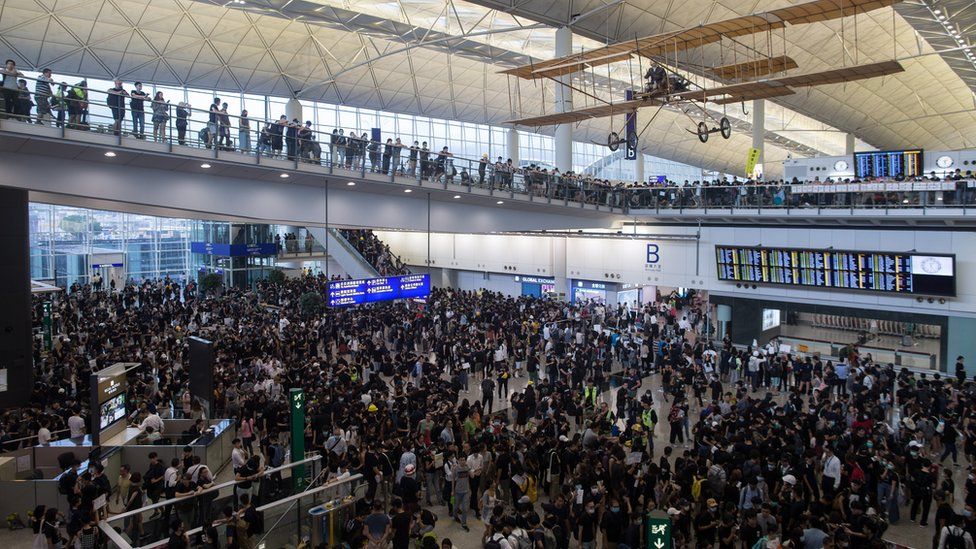 Hong Kong International Airport has cancelled all departures for the rest of the day, after thousands of anti-government protesters occupied it.
Passengers have been told not to travel to the airport, which is one of the world's busiest transport hubs.
In a statement, officials blamed "seriously disrupted" operations.
Many of those protesting are critical of the actions of police, who on Sunday were filmed firing tear gas and rubber bullets at close range.
Some protesters wore bandages over their eyes in response to images of a woman bleeding heavily from her eye on Sunday, having reportedly been shot by a police projectile.
In a statement on Monday afternoon, Hong Kong's Airport Authority said they were cancelling all flights that were not yet checked in.
More than 160 flights scheduled to leave after 18:00 local time (10:00 GMT) will now not depart.
Arrivals already heading into Hong Kong will still be allowed to land, but other scheduled flights have been cancelled.
Officials are now working to reopen the airport by 06:00 on Tuesday, a statement said.
Some passengers expressed annoyance at the disruption. "It's very frustrating and scary for some people," one man from Pakistan told the BBC. "We'll just have to wait for our next flight."
Helena Morgan, from the UK, said she was set to return to the UK to get her exam results on Thursday. "I'm hoping we get back for them and we're not on a flight," she said.
But others were more understanding of the protests. "I was expecting something, given all the news," one arrival, Gurinda Singh, told Reuters news agency.
As rumours spread that police plan to move in on protesters on Monday evening, thousands opted to leave on foot. There are large backlogs for transport back into the centre, local reports say.
The BBC's Stephen McDonell, who is at the scene, says the airport has effectively shut down while authorities work out how to deal with the crisis.
Hong Kong's mass demonstrations and unrest show no sign of abating, more than two months after they were sparked by a controversial extradition bill.
Beijing officials have strongly condemned Sunday's violence and linked violent protesters to "terrorism".
On Sunday afternoon, a peaceful rally in the city's Victoria Park led to clashes when protesters moved out of the area and marched along a major road despite a police ban.
There were confrontations in several central districts and police used rubber bullets in an attempt to disperse the demonstrators.
In the bustling central Wan Chai district, petrol bombs and bricks were thrown at police, who responded by charging at protesters.
A number of people, including a police officer, were injured in the clashes.
Videos on social media also showed officers storming enclosed railway stations and firing tear gas.
Footage inside another station showed officers firing what appeared to be rubber bullets at close range and several police officers beating people with batons.
Local media outlets reported that suspected undercover police officers had dressed-up as protesters to make surprise arrests.
While protests in the city have turned increasingly violent, there were no reports of arrests during the three previous days of the airport sit-in.
What has the reaction been?
On Monday the Chinese authorities, who have not yet physically intervened to quell the unrest, used their strongest language yet to condemn violent protesters.
"Hong Kong's radical demonstrators have repeatedly used extremely dangerous tools to attack police officers, which already constitutes a serious violent crime, and also shows the first signs of terrorism emerging," Yang Guang, a spokesman for the Hong Kong and Macau Affairs Office (HKMAO), said at a press briefing.
"This wantonly tramples on Hong Kong's rule of law and social order."
Hong Kong police have also unveiled a water cannon vehicle as a new tool to combat the protests.
Why are there protests in Hong Kong?
Demonstrations started in June in opposition to a proposed extradition bill, which would have allowed suspected criminals to be sent to mainland China for trial.
Critics said it would undermine Hong Kong's legal freedoms, and could be used to silence political dissidents.
Although the government has now suspended the bill, demonstrators want it to be fully withdrawn.
Their demands have broadened to include calls for an independent inquiry into alleged police brutality, and an amnesty for all arrested protesters.
Hong Kong is part of China but its citizens have more autonomy than those on the mainland.
It has a free press and judicial independence under the so-called "one country, two systems" approach - freedoms which activists fear are being increasingly eroded.
Please include a contact number if you are willing to speak to a BBC journalist. You can also contact us in the following ways: