Hong Kong protests: Trump urges Xi to meet demonstrators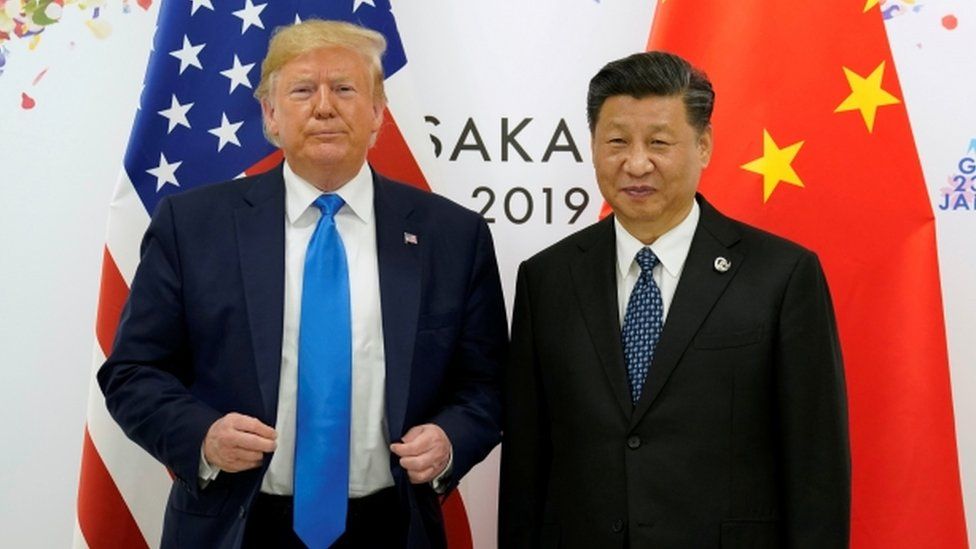 US President Donald Trump has urged his Chinese counterpart Xi Jinping to meet protesters in Hong Kong who have been demanding democratic reforms.
Hong Kong has been in turmoil for weeks, with protesters causing chaos at the airport earlier this week.
Mr Trump had previously appeared to suggest that he himself should meet Mr Xi to discuss the crisis in the city.
Millions of Hong Kong citizens have taken part in 10 weeks of anti-government protests.
Also on Thursday, the Chinese ambassador to the UK warned that Beijing would intervene in Hong Kong if events deteriorated further. He said the territory was facing its gravest situation since it was handed back from the UK to China in 1997.
The tumultuous pro-democracy protests were sparked by opposition to a bill that would have allowed extraditions from Hong Kong to mainland China.
The BBC is not responsible for the content of external sites.
Skip twitter post by Donald J. Trump
Allow Twitter content?
This article contains content provided by Twitter. We ask for your permission before anything is loaded, as they may be using cookies and other technologies. You may want to read Twitter's cookie policy, external and privacy policy, external before accepting. To view this content choose 'accept and continue'.
The BBC is not responsible for the content of external sites.
End of twitter post by Donald J. Trump
In an earlier tweet, Mr Trump said he had "ZERO doubt" that Mr Xi could "humanely solve the Hong Kong problem".
He also tied the protests to a US trade deal with Beijing, in the face of ongoing trade tensions.
"Of course China wants to make a deal. Let them work humanely with Hong Kong first!" he tweeted.
The controversial extradition bill has now been suspended, but the protests have evolved into a broader movement, with demonstrators expressing anger at alleged police brutality, and demanding democratic reform.
Hong Kong, a former British colony, is part of China under a "one country, two systems" model that grants it a high level of autonomy.
It has its own legal system and judiciary and enjoys certain freedoms not seen in the mainland - Hong Kong and Macau for example, are the only places in Chinese territory where people can hold vigils commemorating the 1989 Tiananmen Square crackdown.
Trump's suggestion unlikely to bear fruit
Analysis by Zhaoyin Feng, US Correspondent, BBC Chinese Service
It's highly unlikely that President Xi of China will meet the Hong Kong protesters.
Beijing has labelled them as "rioters with behaviour that is close to terrorism". It would be difficult for the Chinese government to justify a meeting between its leader and the "rioters". Also, the protests have had no obvious leaders who can potentially lead a negotiation with Beijing.
More importantly, a meeting between Mr Xi and protesters would look too much like the one between the then Chinese Premier Li Peng and student leaders in May 1989 during the Tiananmen uprising.
Li Peng's meeting, where he refused to withdraw the "riot" definition of the student movement, was fruitless at best. Li, later known as the "Butcher of Beijing", was believed to have supported the violent crackdown two weeks after the meeting. The Chinese government would not want to remind the world about this piece of history.
Clashes between demonstrators and police have escalated in recent days, with Hong Kong leader Carrie Lam warning the city could be "pushed into an abyss".
Separately, the US president's national security advisor, John Bolton, warned China on Wednesday to tread "carefully" in Hong Kong "because people in America remember Tiananmen Square".
China's ambassador to the UK, Liu Xiaoming, said Hong Kong was at a "critical moment".
"Should the situation in Hong Kong deteriorate further... the central government will not sit on its hands and watch," he said at a press conference in London.
"We have enough solutions and enough power within the limits of (the) Basic Law to quell any unrest swiftly," Mr Liu added.
Relations between protesters and police, already tense, have worsened in recent days.
On Sunday, police were seen firing pepper ball rounds on protesters at close range and using tear gas in an enclosed train station.
On Monday and Tuesday, Hong Kong airport was forced to close after protesters occupied the terminal. They clashed violently with police on Tuesday evening.
On Wednesday evening, police armed with riot shields fired tear gas to disperse hundreds of demonstrators who had been shining laser pointers at a police station.
They were mocking the police who had arrested a student for possessing laser pointers, which they described as "offensive weapons" that could cause eye injuries.
While China's People's Liberation Army (PLA) has troops stationed in Hong Kong, they are not expected to interfere in local issues.
However, Hong Kong's mini constitution, known as the Basic Law, does allow the government to request the PLA's assistance for maintaining public order, or disaster relief.
So far, Hong Kong's government and police have said they have no plans to involve the army.
What questions do you have about Hong Kong? Let us know and a selection will be answered by a BBC journalist.
Use this form to ask your question:
If you are reading this page on the BBC News app, you will need to visit the mobile version of the BBC website to submit your question on this topic.