Hong Kong: British consulate worker 'detained at China border'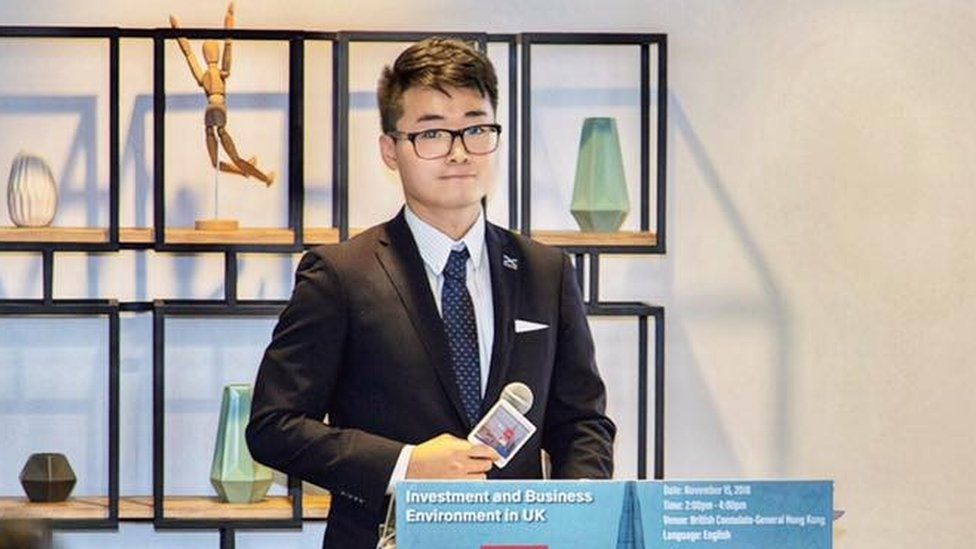 The UK Foreign Office has expressed concern over reports that a Hong Kong consulate employee has been detained at the Chinese border.
Media reports say Simon Cheng, who is thought to be from Hong Kong, is believed to have gone missing on 8 August while on a business trip.
The Foreign Office said it was "seeking further information from authorities in Guangdong Province and Hong Kong".
The British embassy in Beijing is providing support to his family.
A Foreign Office spokesman said: "We are concerned by reports that a member of our team has been detained while returning to Hong Kong from Shenzhen."
Shenzhen, in south-east China, links Hong Kong to the Chinese mainland.
It says he travelled to a business event in Shenzhen on 8 August via the Lo Wu immigration control point.
His girlfriend told news site HK01 he had planned to travel home by train the same day, but did not return.
She shared screenshots of online messages from Mr Cheng, in which he wrote he was passing through the border, before adding "pray for me".
The Scottish government said it was concerned for Mr Cheng's welfare and was liaising with the Foreign Office.
Travellers have described heightened security measures at the border between Hong Kong and China, as Beijing looks to curb anti-government protests in Hong Kong which it has called "close to terrorism".
Recent travellers have reported that everyone passing through the border from Hong Kong into mainland China were subject to police checks on the mainland side, with officers taking people's phones and scrutinising their photos and videos.
'My phone was checked at border for protest photos'
A woman, who did not wish to be identified, has told the BBC she was forced to delete photos from her phone at the border during a recent trip.
Police holding random checks asked the woman, who travels from Hong Kong to mainland China for work, to hand over the phone, which included some WhatsApp conversations with friends about the protests.
"I was so afraid of them checking my phone, so I gave them my old phone," she said.
"I thought I had deleted all protest photos, but they also checked for protest-related posters and news.
"After seeing I had these on my phone, the staff immediately called other uniformed staff, took me to another room, and asked about my background, my job, whether I had joined the protests. Another staff member carefully checked my phone's photo albums to see how many protest-related photos I had."
"I have deleted some protest photos on my iPhone, but I didn't realise those were moved to the 'recently deleted' folder. The officer also checked that. He found I had about 100 protest photos and asked me to delete them all," she added.
"My observation is that they check two people out of three. The situation is quite severe. None of my friends want to go to mainland China now."
Protests in Hong Kong, now entering their third month, were sparked by a now-suspended extradition bill that would have allowed Hong Kong to send criminal suspects to China for trial.
They have grown into a broader movement calling for democratic reform in Hong Kong, and an investigation into alleged police brutality against protesters.
Police put the figure much lower at 128,000, counting only those at an officially sanctioned rally in the city's Victoria Park.
On Tuesday Hong Kong's embattled leader, Carrie Lam, said she hoped Sunday's peaceful protests were a sign that tensions were easing in the territory.
She promised to "immediately start the work to establish a platform for dialogue" between Hong Kong's government and protesters, but did not elaborate on what form this might take.
She expressed hope that this platform, built on "mutual understanding", would find a "way out" of the political crisis crippling Hong Kong.
"I sincerely hope this is the start of society returning to calm and turning away from violence," she said.
She also said that said Hong Kong's police watchdog, the Independent Police Complaints Council (IPCC), had set up a task force to investigate complaints made in recent months.
Her announcement, however, is unlikely to satisfy protesters, who have demanded a third-party investigation into police actions.
Anthony Neoh, who heads the IPCC, told the South China Morning Post that Ms Lam should not rule out appointing an independent commission of inquiry at a later stage but "be very careful in doing it"
But he said only a political solution could restore calm to Hong Kong. "Every time I see the chief executive [Ms Lam], I mention to her, you need a political solution," he said. "She agrees, and she says she's working on it."
Mr Neoh added that giving the extradition bill which sparked the protests a "proper burial" would be a first step towards meeting protesters' demands. Ms Lam has insisted the bill is "dead" but has not formally withdrawn the legislation.
Some observers believe that hardening rhetoric from Beijing is a sign that China's central government is losing patience with the protesters in Hong Kong and raises the likelihood of a direct intervention.
Analysts say this remains unlikely, despite the thousands of armed police stationed across the border in Shenzhen.
Twitter said it removed 936 accounts it said were being used to "sow political discord in Hong Kong".