Li Wenliang: Coronavirus death of Wuhan doctor sparks anger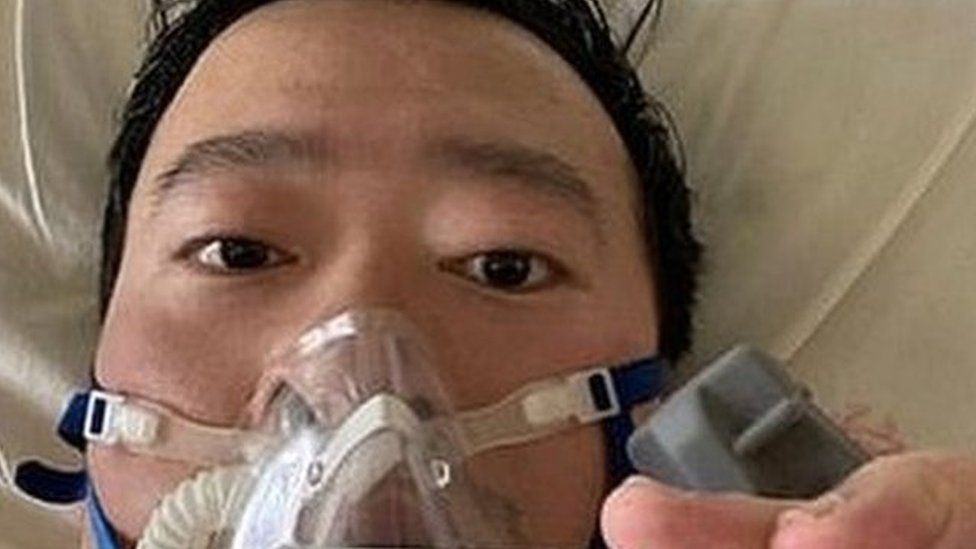 The death of a Chinese doctor who tried to warn about the coronavirus outbreak has sparked widespread public anger and grief in China.
Li Wenliang died after contracting the virus while treating patients in Wuhan.
Last December he sent a message to fellow medics warning of a virus he thought looked like Sars - another deadly coronavirus.
But he was told by police to "stop making false comments" and was investigated for "spreading rumours".
"I don't think he was rumour-mongering. Hasn't this turned into reality now?" his father, Li Shuying, told the BBC. "My son was wonderful."
According to Chinese site Pear Video, Dr Li's wife is due to give birth in June.
The virus causes severe acute respiratory infection and symptoms usually start with a fever, followed by a dry cough.
Most of those killed have been over the age of 60 or have suffered from other medical conditions, China's health authorities say. Dr Li's medical history is not known.
The country's anti-corruption body said it would open an investigation into "issues involving Dr Li".
China's leadership had already faced accusations of downplaying the severity of the virus - and initially trying to keep it secret.
The government has admitted "shortcomings and deficiencies" in its response to the virus, which has now killed 636 people and infected 31,198 in mainland China.
What has the public reaction been?
Analysts say it is hard to recall an event in recent years that has triggered as much online grief, rage and mistrust against the Chinese government.
News of Dr Li's death became the top trending topic on Chinese social media, garnering an estimated 1.5bn views.
His death has also brought demands for action, with "Wuhan government owes Dr Li Wenliang an apology" and "We want freedom of speech" among the hashtags trending.
Both hashtags were quickly censored. When the BBC searched Weibo early on Friday, hundreds of thousands of comments had been wiped. Only a handful remain.
"This is not the death of a whistleblower. This is the death of a hero," read one comment.
A photo circulating on Twitter reportedly sourced from messaging platform WeChat showed a message in Chinese saying "Farewell Li Wenliang" written in the snow on a riverbank.
Many have taken to posting under the hashtag "Can you manage, do you understand?" - a reference to the letter Dr Li was told to sign when he was accused of disturbing "social order".
Scream! #DrLiWenliang, could you hear? All over #Wuhan, at this moment, people in lockdown let the world hear them, show their respect & appreciation for your courage to tell truth to power, for you who cherished their lives... https://t.co/AzEIrFRgiT

— CHRD人权捍卫者 (@CHRDnet) February 7, 2020
BBC China correspondent Stephen McDonell says Beijing's efforts to manage the coronavirus outbreak have laid bare the worst aspects of China's command and control system of governance under President Xi Jinping.
The Chinese people will take some convincing that the government knows how to manage such an emergency, he adds.
The beginning of the end?
The number of new cases of the coronavirus has fallen for the past two days.
Official Chinese figures released on Wednesday reported nearly 3,900 newly confirmed cases. The latest figures show just over 3,100.
But it is dangerous to read too much into two days' worth of data.
It is impossible to say if cases are really levelling off, or if this is a sign of health authorities being unable to keep up with testing - or if cases will shoot up again in the next few days.
Realistically, it is going to take another week or so before we have a clear picture of whether the outbreak is peaking.
And there is still a massive mismatch between the figures released by China and what outbreak analysts think is really going on.
It is widely accepted that the laboratory-confirmed cases are just the tip of the iceberg.
Some mathematic models of the outbreak suggest the true size of the epidemic could be 10 times higher than the official figures.
Dr Li, an ophthalmologist, posted his story on Weibo from a hospital bed a month after sending out his initial warning.
He had noticed seven cases of a virus that he thought looked like Sars - the virus that led to a global epidemic in 2003.
On 30 December he sent a message to fellow doctors in a chat group warning them to wear protective clothing to avoid infection.
Four days later he was summoned to the Public Security Bureau where he was told to sign a letter.
In the letter he was accused of "making false comments" that had "severely disturbed the social order". Local authorities later apologised to Dr Li.
In his Weibo post he describes how on 10 January he started coughing, the next day he had a fever and two days later he was in hospital. He was diagnosed with the coronavirus on 30 January.
What is the latest on the coronavirus?
Chinese President Xi Jinping has told his US counterpart Donald Trump that China is "fully confident and capable of defeating the epidemic". The country has introduced more restrictive measures to try to control the outbreak:
The capital Beijing has banned group dining for events such as birthdays. Cities including Hangzhou and Nanchang are limiting how many family members can leave home each day
Hubei province has switched off lifts in high-rise buildings to discourage residents from going outside.
The virus has now spread to more than 25 countries, but only two of the deaths have been outside mainland China.
What questions do you have about the coronavirus?
In some cases your question will be published, displaying your name, age and location as you provide it, unless you state otherwise. Your contact details will never be published. Please ensure you have read our terms & conditions and privacy policy.
Use this form to ask your question:
If you are reading this page and can't see the form you will need to visit the mobile version of the BBC website to submit your question or send them via email to YourQuestions@bbc.co.uk. Please include your name, age and location with any question you send in.