Coronavirus: Hong Kong imposes quarantine rules on mainland Chinese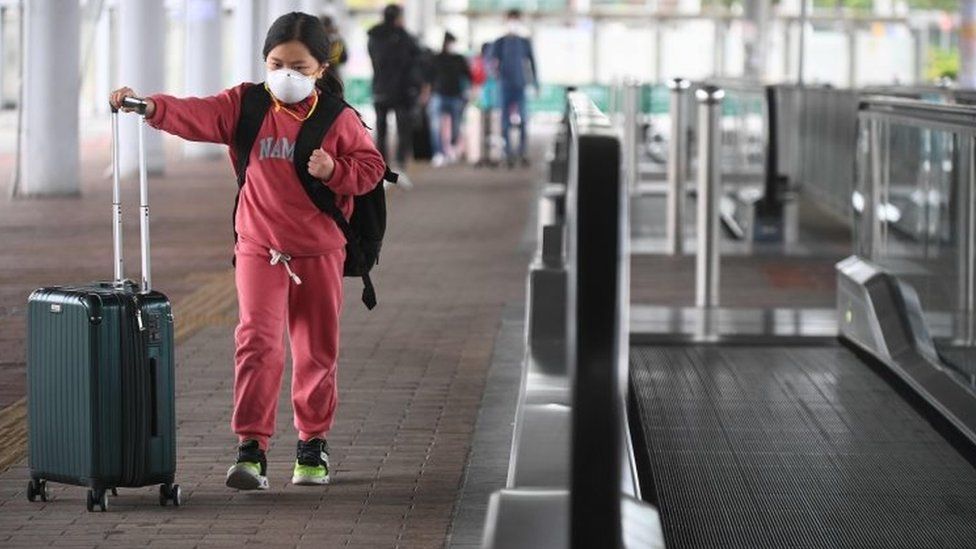 Hong Kong has begun a mandatory two-week quarantine for anyone arriving from mainland China, in a fresh effort to contain the deadly new coronavirus.
Visitors must isolate themselves in hotel rooms or government-run centres. Residents must stay inside their homes.
Anyone caught flouting the new rules faces a fine and a prison sentence.
Meanwhile, 723 deaths have been recorded in China, including one American. A Japanese man also died with symptoms consistent with the virus.
The 60-year-old US citizen, the first confirmed non-Chinese victim of the illness, died on Thursday at Jinyintan Hospital in Wuhan, the epicentre of the outbreak, according to a US embassy spokesman in Beijing, who did not give details.
Separately, the Japanese foreign ministry said a man in his 60s died, also in Wuhan, from what was suspected to be a case of coronavirus. However, it said it could not confirm the diagnosis, and that Chinese officials said the cause of death was viral pneumonia.
The city is opening its second makeshift hospital since the outbreak began. Leishenshan hospital was built in two weeks and will be able to accommodate 1,500 patients.
The number of confirmed cases in China stands at 34,598. Outside China, 288 cases have been confirmed in 24 countries, according to the World Health Organization (WHO), with one fatality in the Philippines.
On Saturday, France confirmed five new cases in its Haute-Savoie region, including a nine-year-old boy and bringing the total of infected in the country to 11.
French Health Minister Agnès Buzyn said all of the five new cases were British nationals staying in the same chalet, which had also housed a Briton who had been in Singapore. Their condition is not said to be serious. A further six people who stayed at the chalet are under observation.
Two schools - one the nine-year-old boy has been attending, along with another school where he has French classes - have been closed as a precaution.
In Hong Kong, there have been 26 confirmed cases. Tens of thousands of travellers queued at the Chinese border city of Shenzhen to beat the Friday midnight deadline.
But by Saturday morning, only a trickle of people were arriving via the Shenzhen Bay Port crossing.
In a press conference, Hong Kong chief executive Carrie Lam said the territory's government only has 12 million face masks, which she expects to be used up within one month. She appealed for anyone with resources to buy masks to "donate them to people in need".
Meanwhile, three more people have tested positive for the virus on a quarantined cruise ship in Yokohama harbour, bringing the total number of cases on board to 64.
There was some positive news on Friday when the WHO said there had been fewer reported infections in China in the past two days. However, its director general, Tedros Adhanom Ghebreyesus, cautioned against reading too much into those figures.
He also told reporters that the outbreak had caused a global shortage of protective medical equipment such as gowns, masks and gloves.
"When supply is short, and demand is high then there could be bad practices like hoarding in order to sell them at higher prices," he warned, urging suppliers to "uphold the protection of humanity" rather than looking to increase profits.
The WHO also released new data from 17,000 patients that suggested 82% had a mild form of the disease, with 15% considered severe cases and 3% critical.
For most this is a mild infection
This is the clearest detail we have had on the spectrum of disease this coronavirus can cause. It is good news for most people and emphasises that for more than four-in-five, this is a mild infection.
However, that sheer volume of mild cases raises important questions about stopping this epidemic. The Sars outbreak was relatively easy to stop because patients were often severely ill and easily identified.
Mild cases - which could be mistaken for any other winter bug - are naturally harder to spot. What we do not know is how easily people with mild symptoms can spread the new coronavirus. If mild cases are capable of sustaining this epidemic, then it will be much harder to contain.
It is also worth remembering we still do not know the true number of cases, with some analysts saying there could be 10 times more than official figures suggest.
What's happening in mainland China?
There has been widespread anger and grief across China over the death of Li Wenliang, a doctor who tried to warn about the new coronavirus. He contracted the virus while treating patients in Wuhan, in Hubei province.
In December, he sent a message to fellow medics warning of a virus he thought looked like Sars - another deadly coronavirus. But he was told by police to "stop making false comments" and was investigated for "spreading rumours".
China's anti-corruption body said it would open an investigation into "issues involving Dr Li".
Analysts say it is hard to recall an event in recent years that has triggered as much online grief, rage and mistrust against the Chinese government.
News of Dr Li's death became the top trending topic on Chinese social media, garnering an estimated 1.5 billion views.
China's leadership had already faced accusations of downplaying the severity of the virus - and initially trying to keep it secret. The government has admitted "shortcomings and deficiencies" in its response to the virus.
Chinese President Xi Jinping has told his US counterpart Donald Trump that China was "fully confident and capable of defeating the epidemic".
The country has introduced more restrictive measures to try to control the outbreak:
The capital, Beijing, has banned group dining for events such as birthdays. Cities including Hangzhou and Nanchang are limiting how many family members can leave home each day
Hubei province has switched off lifts in high-rise buildings to discourage residents from going outside.