Hong Kong national security law: What is it and is it worrying?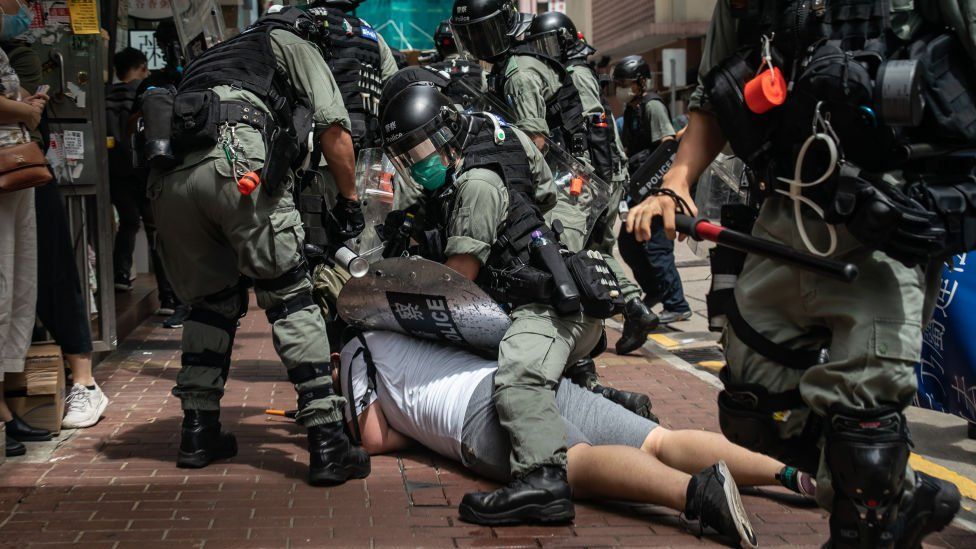 In 2020, China introduced a wide-ranging new national security law (NSL) for Hong Kong, making it easier to prosecute protesters and reducing the city's autonomy.
Critics called it "the end of Hong Kong", but what exactly does the law entail and what has changed since it was introduced?
What is this law all about?
Hong Kong was always meant to have a security law, but could never pass one because it was so unpopular. So this is about China stepping in to ensure the city has a legal framework to deal with what it sees as serious challenges to its authority.
The details of the law's 66 articles were kept secret until after it was passed. It criminalises any act of:
secession - breaking away from the country
subversion - undermining the power or authority of the central government
terrorism - using violence or intimidation against people
collusion with foreign or external forces
What provisions fall under the law?
The law came into effect at 23:00 local time on 30 June 2020, an hour before the 23rd anniversary of the city's handover to China from British rule.
It gives Beijing powers to shape life in Hong Kong it has never had before.
Its key provisions include:
Crimes of secession, subversion, terrorism and collusion with foreign forces are punishable by a maximum sentence of life in prison
Damaging public transport facilities can be considered terrorism
Those found guilty will not be allowed to stand for public office
Companies can be fined if convicted under the law
This office can send some cases to be tried in mainland China - but Beijing has said it will only have that power over a "tiny number" of cases
In addition, Hong Kong will have to establish its own national security commission to enforce the laws, with a Beijing-appointed adviser
Hong Kong's chief executive will have the power to appoint judges to hear national security cases, raising fears about judicial autonomy
Importantly, Beijing will have power over how the law should be interpreted, not any Hong Kong judicial or policy body. If the law conflicts with any Hong Kong law, the Beijing law takes priority
Some trials will be heard behind closed doors.
People suspected of breaking the law can be wire-tapped and put under surveillance
Management of foreign non-governmental organisations and news agencies will be strengthened
The law will also apply to non-permanent residents and people "from outside [Hong Kong]... who are not permanent residents of Hong Kong".
What has changed in Hong Kong since the law was introduced?
Hundreds of protestors, activists and former opposition lawmakers have been arrested since the law came into force.
"The arrests... [are] an ominous sign that its crackdown on Hong Kong is only going to escalate," said the Human Rights Watch organisation.
Beijing has said the law is needed to bring stability to the city, but critics say it is designed to squash dissent.
Earlier in 2022, the UK announced that two of its Supreme Court judges would no longer sit on Hong Kong's top court - as the threat to civil liberties had made their role untenable.
UK Supreme Court President Lord Robert Reed said he and Lord Patrick Hodge were resigning from the court over the threat to civil freedoms posed by the new law.
"Since the National Security Law was imposed, authorities have cracked down on free speech, the free press and free association," said UK Foreign Secretary Liz Truss.
"We have seen a systematic erosion of liberty and democracy in Hong Kong."
Observers say the laws have also created a climate of fear stifling free speech.
Numerous pro-democracy news outlets in Hong Kong have shut down over the past few months, including Apple Daily, which was known to be critical of the mainland Chinese leadership.
Numerous staff members from Apple Daily, including its owner Jimmy Lai, were also arrested and charged under the NSL.
"The arrests worsened the feeling of fear prevalent among journalists since the enactment of the national security law," Chris Yeung, a veteran journalist and former chairman of the Hong Kong Journalists' Association, had earlier told the BBC.
"The national security law has caused far more damaging impacts on freedoms and way of life than many people had envisaged one year ago."
Hong Kong was handed back to China from British control in 1997, but under a unique agreement - a mini-constitution called the Basic Law and a so-called "one country, two systems" principle.
They are supposed to protect certain freedoms for Hong Kong: freedom of assembly and speech, an independent judiciary and some democratic rights - freedoms that no other part of mainland China has.
Under the same agreement, Hong Kong had to enact its own national security law - this was set out in Article 23 of the Basic Law - but it never happened because of its unpopularity.
But in 2019, China proposed an extradition bill that could potentially allow Hong Kong suspects to be sent for trial in China.
Anger over the potential bill erupted into some of the largest protests Hong Kong had ever seen, turning into a broader anti-China and pro-democracy movement.
In response, China passed the NSL.
Many might ask how China can do this if the city was supposed to have freedoms guaranteed under the handover agreement.
The Basic Law says Chinese laws can't be applied in Hong Kong unless they are listed in a section called Annex III - there are already a few listed there, mostly uncontroversial and around foreign policy.
These laws can be introduced by decree - which means they bypass the city's parliament.
If you want to find out more about China-Hong Kong tensions read here:
Critics say the introduction of the law this way amounts to a breach of the "one country, two systems" principle, which is so important to Hong Kong - but clearly it is technically possible to do this.
Reporting by the BBC's Grace Tsoi and Lam Cho Wai