China Muslims: Volkswagen says 'no forced labour' at Xinjiang plant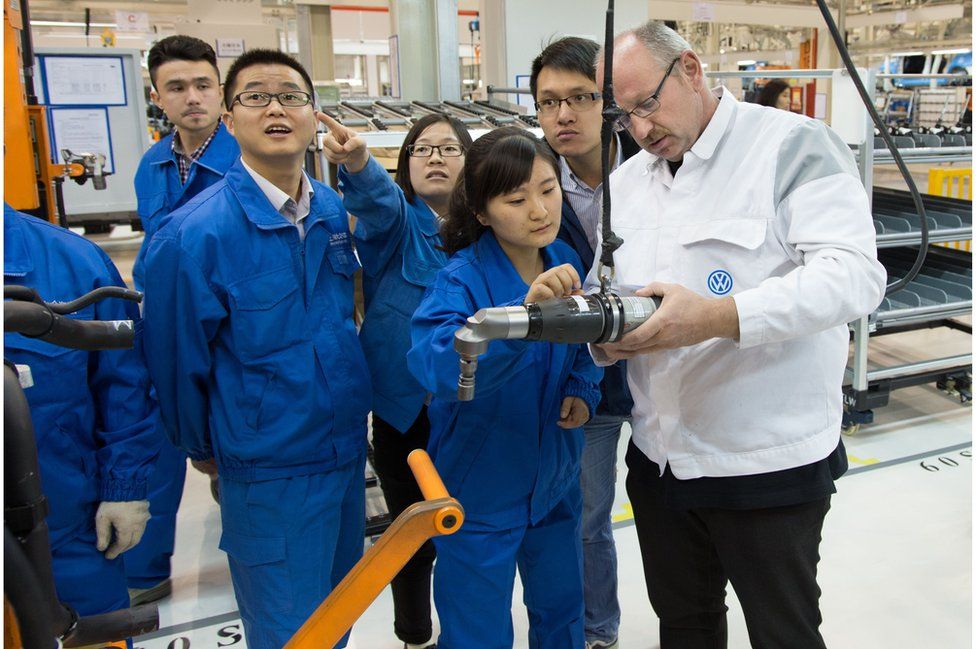 Volkswagen has defended its decision to continue operating a car plant in Xinjiang, a Chinese region mired in allegations of large-scale human rights abuses by the state.
Evidence that hundreds of thousands of Uighurs and other minorities are being detained in camps, or used as forced labour in factories, has led some multinational companies to cut ties with the region, despite China's insistence that the claims are untrue.
But in an interview with the BBC in Beijing, the company's CEO in China, Stephan Wollenstein, defended Volkswagen's presence in Xinjiang's capital, Urumqi, where it runs a factory with 600 workers, producing up to 20,000 vehicles a year.
"What happened in the Nazi times was something that happened in our factories where we had forced labour, people producing Volkswagen cars," he said.
"This certainly is an unacceptable situation. Therefore, we are making sure that none of our production sites have forced labour, and this is something that we specifically checked in Urumqi and I can assure you, we do not have forced labour."
But when asked whether he could be absolutely certain of that claim and give an assurance that none of the Urumqi workforce - of which around 25% is made up of Uighurs and other minorities - had been in a camp, Dr Wollenstein said he couldn't.
"We try to control our company-related processes, including the HR process, which, for instance, means the hiring of people in the best possible manner," he said.
"And this reduces for us the risk that something happens which we do not like and which is not complying to our standards. But I guess we could never reach 100% certainty."
For critics, that defence falls short.
Viola von Cramon-Taubadel is a Green Party member of the European Parliament and formerly a member of the German Federal Parliament from Lower Saxony - the state where Volkswagen's headquarters is based.
"Why can't they be certain? They should make sure that there is no linkage between any labour camp and that company," she told the BBC.
Even if VW could prove categorically that their own supply chain was clean, the criticism goes far deeper.
Because opening a car plant in Xinjiang requires the partnership and approval of the Chinese authorities, the concern is that it risks lending tacit support to the policies of mass incarceration and ethnic repression, for which there is now compelling evidence.
"Even the placing of a factory there gives, of course, the Communist Party a higher legitimacy," Ms von Cramon-Taubadel said.
"Volkswagen knows this - they have done it exactly for this, to get a comparative advantage. It was a political issue from the very beginning - economically it is useless, it doesn't make sense at all."
Volkswagen denies that its decision to open its Xinjiang plant in 2013 was for political rather than economic reasons, insisting that the company saw good, long-term opportunities for market growth in China's far-west.
With the number of cars being produced currently less than 10% of capacity of some of the company's 32 other plants in China, Dr Wollenstein said they would "love to do more."
"But the market is still not as big as it could be with regard to our product offerings."
There are other things that appear to distinguish VW's Xinjiang operation from its factories elsewhere in China.
The company would donate vehicles and in exchange, the People's Armed Police - an organisation with a frontline role in Xinjiang's heavy securitisation - would provide VW employees with both "military training" and "patriotic education", phrases often associated with the wider camp programme.
Dr Wollenstein told the BBC that only two cars were provided to the unit - on behalf of Volkswagen's Chinese partner in the Xinjiang plant, Saic Motor Corporation Ltd - and he was not aware of any such training taking place at the factory.
But when pressed as to whether it could have taken place off-site, he admitted, "we probably would not know".
"I would say everything that is happening outside the fences of all of our production sites all over China and what is happening in the spare time of our employees is out of our control."
For Volkswagen's critics, its real problem may be one of too much success.
Ms von Cramon-Taubadel says that in recent meetings she's held with senior company executives, they've admitted as much.
"They told me that the condition for any expansion of the company within China is that at least one of the factories should be based in the west," she said.
"And they tried to convince me that if VW decides unilaterally to close [its Xinjiang plant] they could not produce a single car in China any more."
In public, at least, Volkswagen insists its dominance of the Chinese market puts it in a position of strength.
"We've been engaged in this country for 37 years," Dr Wollenstein said. "And as much as we are to a certain extent dependent on China, probably China is also dependent on us.
"We firmly believe in a global perspective and that free trade and doing business according to our ethical standards is helping every country where we're engaged."
You may also be interested in: